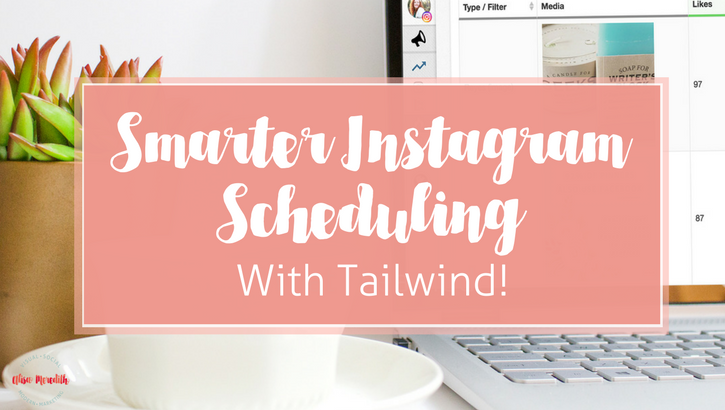 Wait, isn't Tailwind all about Pinterest? True – it is THE Pinterest scheduling and analytics choice for many Pinterest pros (myself included), but at heart, Tailwind is all about visuals and the data behind the success of visuals – so venturing into Instagram was a logical next step. And now they've done it!
A great big thank you to Melissa and David of Tailwind for 1. allowing me to beta test their new feature and, 2. letting me blog about it before they did! I've been a Tailwind for Pinterest user for ages and I would simply NOT be using Pinterest without it. The scheduling and reporting features cannot be beat. And don't get me started on Tribes – it's basically what I've wanted natively on Pinterest all along. I digress.
Naturally, when I heard that Tailwind was releasing a scheduler for Instagram, I had to get in on it. In fact, I pouted until Melissa used her great influence to get me invited. And really, I can't blame them for not choosing me first. I am NOT a great Instagrammer. But I am a Tailwind Education Partner and that has its perks. 🙂
My problem on Instagram is that I am not active enough to have a business AND personal account, so it's a bit mixed. I also work from a home office, so my daily work scenery doesn't change much more than from "dog in the dog bed" to "cat on my chair" or the slightly more popular, "here's where I ran today." Lucky me I live in gorgeous Wilmington, North Carolina, but it's still hardly glamorous stuff. Don't believe me? Have a look. (pssst – it's better now that I've been using the scheduler for almost three months!)
So, if Tailwind can help me be a better Instagrammer in the way it's made me a better Pinner, I want in – now!!  And so far, it's looking good. Now that I've been using it a few months, I'm completely sold and I'm thrilled that it is out of beta and available to all!
How Tailwind Will Make You a Better Instagrammer
Smart Instagram Scheduling
There are programs that will tell you when is the best time to post based on your past activity. I've used one. It was helpful. Trouble is, I never remember when that time is. Also, it has no connection to the scheduler. This feature is the one Melissa Megginson, Marketing Manager and Cat Lady of Tailwind, was most excited about. She says, "My favorite feature is the smart schedule. It's easy to see exactly when your post will go out and you can easily drag and drop the image to a different timeslot."  Sweet. Check out my recommendations: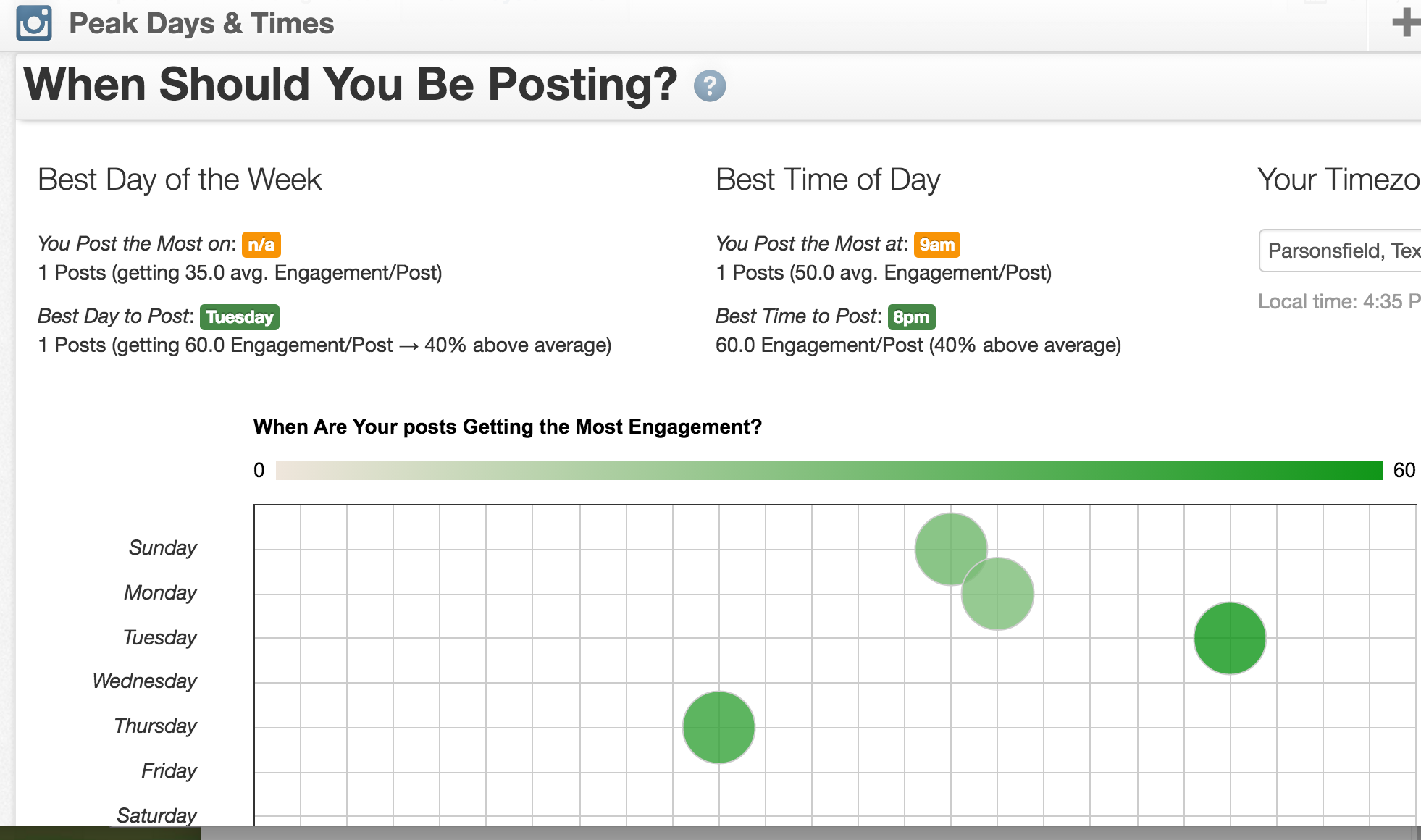 Looks like I post exactly 11 hours earlier than I should. D'oh! See, if I can queue up my posts in Tailwind instead of just posting on the fly all the time, I'll be way ahead of the game.
That translates nicely into a suggested schedule for my posts – anything I queue up will go into the next available slot. No remember required. Cool. If I start posting more often, Tailwind will have more data to go on and my schedule will become even more helpful for increasing engagement. Must. Post. More. Often.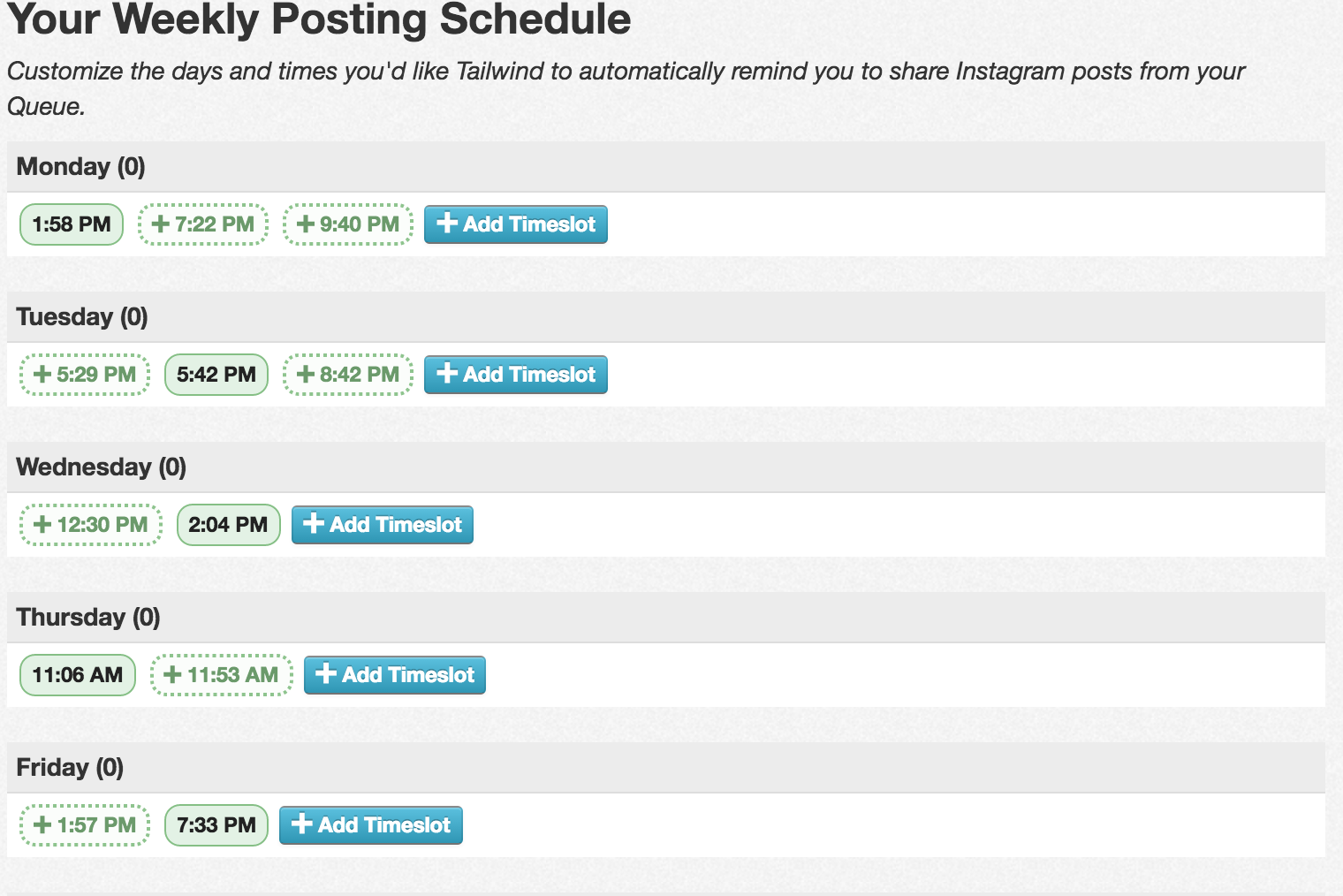 I haven't yet posted my previous blog post on Instagram, so I'll schedule that now. I don't think the weekend is the best for that content, but when I queue it up, it goes to my next open slot, Saturday. NO PROBLEM! I just drag that image from Saturday to the spot on Monday. Done!
Save Time and Be Consistent!
We all know how important consistency is on social. Since I started using Tailwind's Instagram scheduler, I've posted updates every weekday. A big change from my previous method of panic and skip! Not only is it a huge time saver in general, but I find having Instagram and Pinterest scheduling in the same place helps me get into that visual marketing mindset and batch my work a bit more.
Check out this video for more time-saving options:

A Browser Extension – It's No-Excuses Easy
Let's just go back a sec. to the actual scheduling. Oh my goodness – easy scheduling on desktop! Just like with scheduling pins, you can use a browser extension to schedule. It pulls up the image for you and all you have to do is  add a description. For people who blog on the fly and who can't remember where they put that image (ahem!) being able to grab an image from the post is a huge time saver. My image format works well for cropping to square, which is helpful, too.
What about sharing other people's blog images? Well, as long as you tag the creator and mention them in the update, I would think bloggers would love it! There is of course the possibility that this will be abused, but that can happen with any tool. Let's just all promise to use it for good. 🙂
Hashtag Help
Pinterest is most definitely NOT hashtag territory, so I always feel a little lost when choosing hashtags on Instagram. Anyone with me here? Well, Tailwind's engineers seem to enjoy obsessing over data, which means I don't need to.
If you're on the Enterprise plan (I'm seeing it in Beta because I'm a partner), you can add in 10 hashtags you want to monitor. I just entered the ones I use most often. After a few days, it cooks up enough data to show you the popular posts for those hashtags, which should enable you to learn what works best. Here's what I see for top posts for #pinterestmarketing: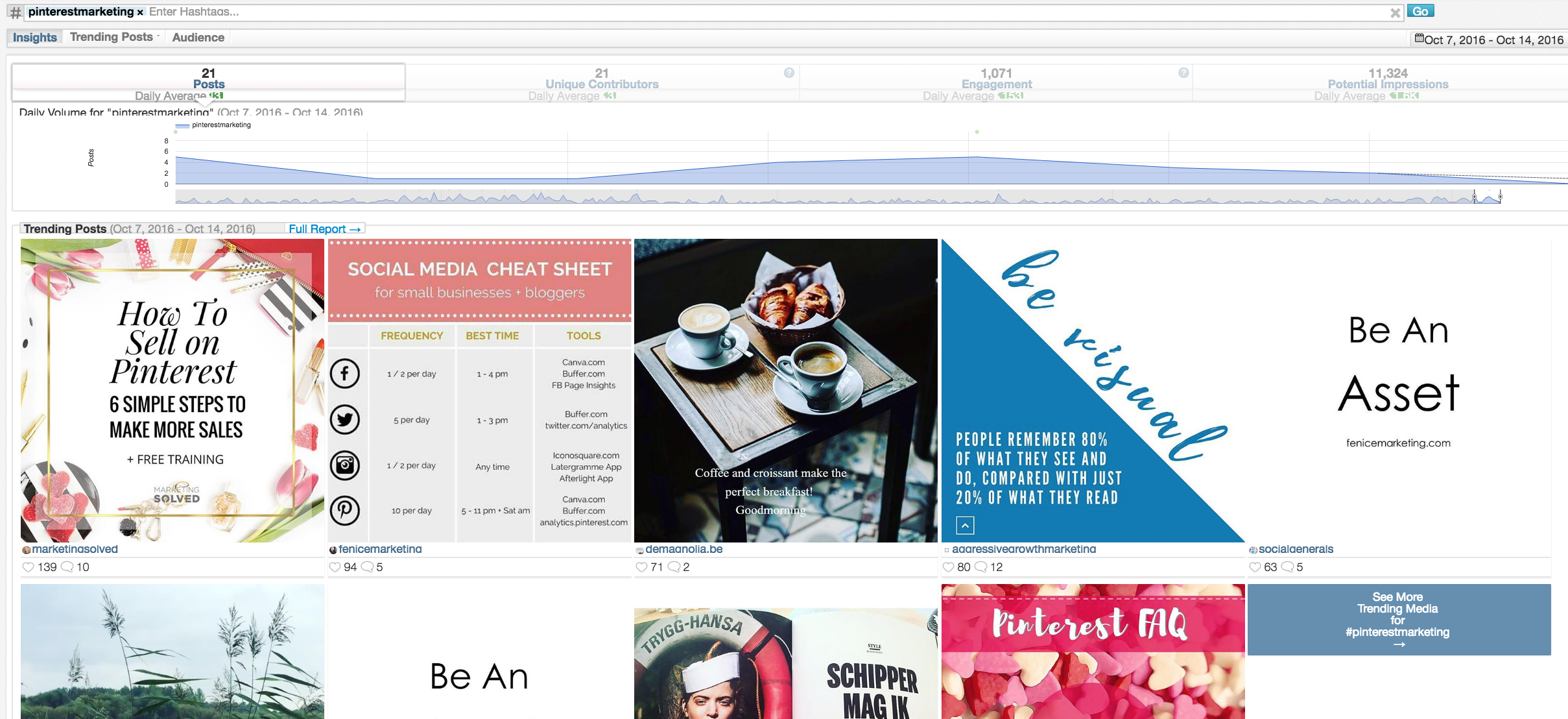 I have mixed feelings about the results. On the one hand, I see my image there (the Pinterest FAQ image), but on the other hand, the top result had 139 likes. Not exactly viral. So, I might need to rethink the hashtag!
That's not all that's on that page, though. You can also see when posts with that hashtag perform best (Tuesday at 3am!??!) and top contributors to that hashtag (and you can follow them from the page).
Insightful Reporting
If you use Tailwind for Pinterest reporting, you know how easy it is – and it's comprehensive, too! The data for Instagram is just as good. I can easily see everything I've posted – whether from my phone or from Tailwind. It shows me the filters I use, too – which gives me a feel for which ones my audience seems to enjoy the most.
It's also helpful to have a look at your profile performance.  I've always loved this feature for Pinterest – the engagement rate "speedometer." Here it is in part:

Last, but certainly not least, look at your Top Followers. These are people whose attention you attracted somewhere along the way for one reason or another – and they are influencers! So, if they're important to you, make sure you look for and engage with their content to stay on their radar. My top follower has 103K followers. Insane!
You know you want to try it, too! Start your free trial now! (this is my affiliate link).
Be a sport and pin me?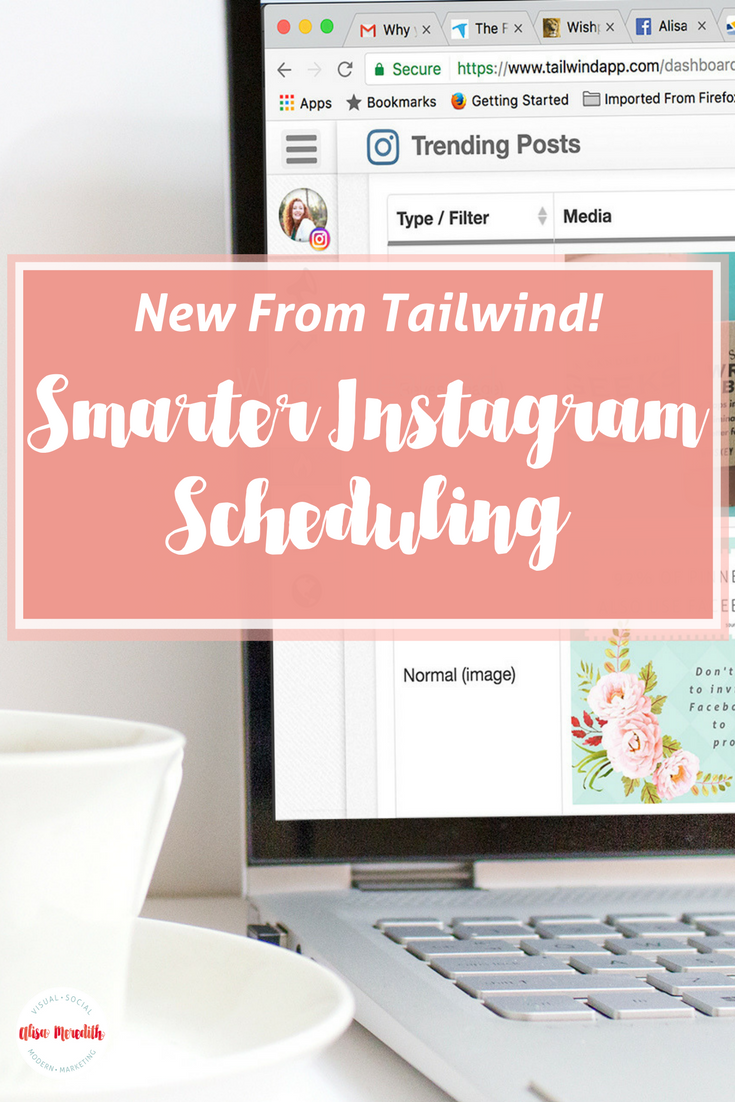 The following two tabs change content below.
I've been creating marketing strategies for years - for both B2C and B2B businesses as co-owner and chief strategist of Scalable Social Media and as a consultant for other agencies. I have a passion for businesses that make the world a better place in ways large and small, and the people who run those businesses are the ones I enjoy working with. I am slightly obsessed with Pinterest. Not just because it is fun, but because it works amazingly well for traffic and lead generation. I also enjoy running, swimming in the ocean, kayaking, and spending time with my two dogs, Pepe and Spike. You'll find these themes make an appearance here. 🙂
Latest posts by Alisa Meredith (see all)