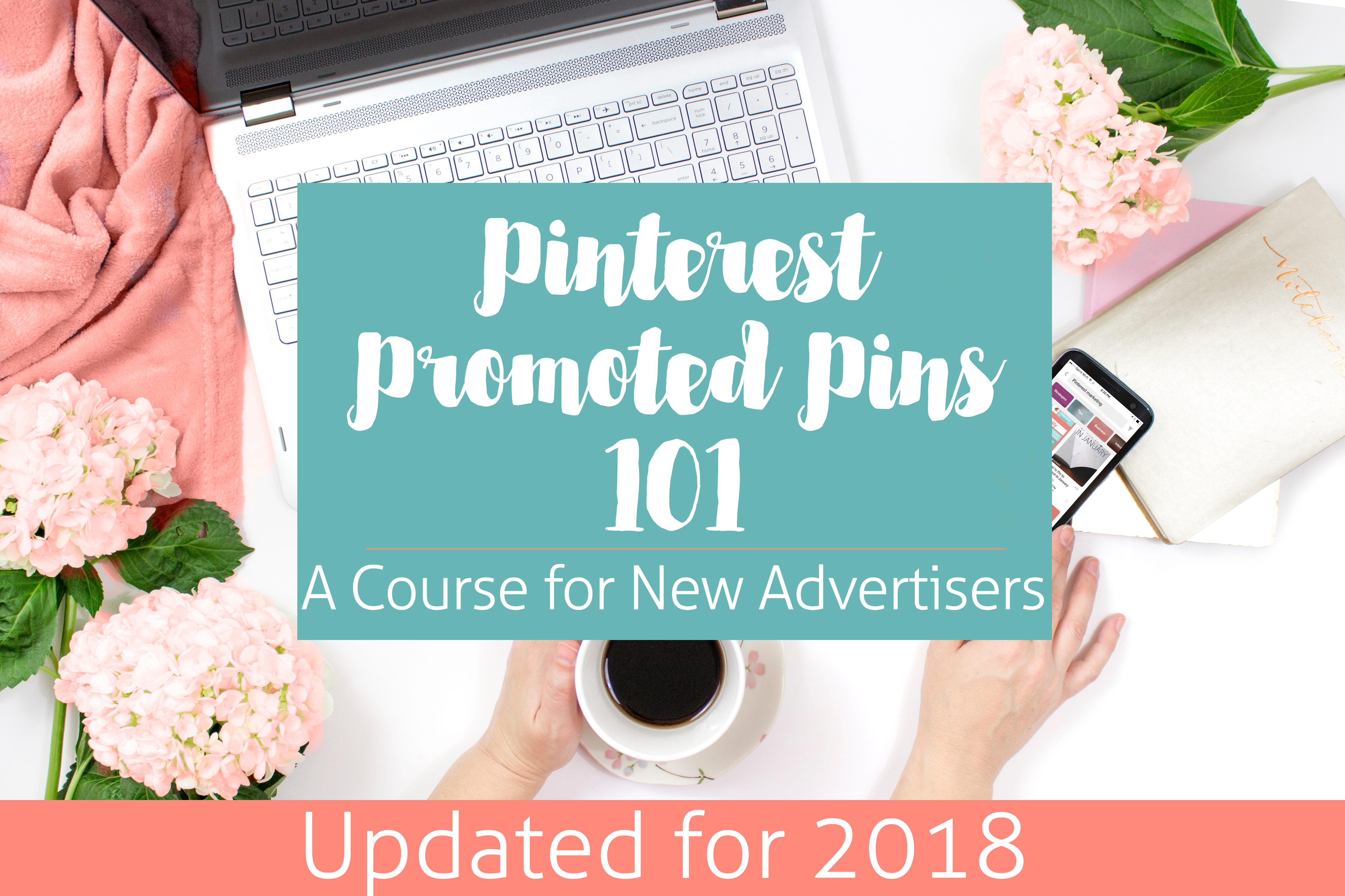 NOTE that this course has not been updated in quite a while. While much has changed, the fundamentals remain. You can get updates and help in the Facebook group.
Wonder what to promote, how much to spend, and what those analytics mean? Wish someone would just show you how to do it step-by-step?
The Pinterest Promoted Pins 101 Course is what you've been waiting for! I'm a speaker, writer, and Pinterest pro and I'm obsessed with all things Pinterest advertising. I will share what I've learned and give you the confidence and the skills you need to run your best Promoted Pin campaign ever!
When you're done with this course (in just over an hour!), you'll feel confident running advertising campaigns on Pinterest because you'll understand:
What they are
How well they work
How much you should spend
What kind of campaign to run
What makes a good Promoted Pin
What content you should promote
What targeting options are available
How to optimize using analytics for better results and lower spend.
Also includes live demonstrations of all aspects of Promoted Pin campaign creation and a downloadable planning form to help you start the best Promoted Pin campaign ever!
Who Should Take This Course?
If you've never run a Promoted Pin campaign before, this is for you. If you've advertised on Pinterest without success, this is for you. I start with the absolute basics, but I also share some advanced tips and techniques to help you make the choices that set you up for success.
Here's What Two Pinterest Pros Say About the Course:
I so appreciate your promoted pins class and the Facebook group. All I learned has expanded my understanding of promoted pins so much. It's worth every cent I paid for it. – Annette Barney, Pin Concierge.

Alisa's Pinterest Promoted Pins 101 course is absolutely fabulous. Though it's meant as an introductory course, as an advanced user who's run multiple successful Pinterest ad campaigns for clients, I still came away with new tips and tricks I'm eager to try. Alisa's knowledge of promoted pins is nothing short of impressive. Newbie or guru, this is a Pinterest course everyone should take! – Tina Gammon, Pin the Pretty Things.

Promoted Pins 101 is such a valuable course of clear instruction and actionable tips for running a Promoted Pins campaign on Pinterest. I think the best part of this course is Alisa's experience running hundreds of ad campaigns on Pinterest. Her insider's tips scattered throughout the course prevent you from wandering aimlessly through the desert of ad campaigns, resulting in poor performing campaigns and wasted money. After this course, you'll have the confidence to set up a traffic-generating campaign to drive sales and sign-ups for your site! If you have any confusion, the Promoted Pins Facebook group provides incredible value and support. – Vanessa Kynes, vanessakynes.com
You'll need:
You'll need a US, UK, New Zealand, Ireland, Australia or Canada-based Pinterest Business profile. To convert a personal profile to a business account, follow the simple instructions here.
Would you like to help promote this course as an affiliate?

The following two tabs change content below.
I've been creating marketing strategies for years - for both B2C and B2B businesses, formerly as co-owner and chief strategist of a HubSpot partner agency, and since 2015 right here. I have a passion for businesses that make the world a better place in ways large and small, and the people who run those businesses are the ones I enjoy working with. I am slightly obsessed with Pinterest. Not just because it is fun, but because it works amazingly well for traffic and lead generation.
Latest posts by Alisa Meredith (see all)