Looking for a guest for your podcast, webinar, live show, etc? I'm happy to join you. No script or agenda needed, I'm up for a friendly and helpful chat with you and your audience just about any time.
Don't be shy – I'd love to join you! Please send email to alisa(at)alisameredith.com.
Why book me? I've been in marketing (content, social, inbound, product, Pinterest) for over 20 years. I've worked directly with Pinterest's partner and creator teams, spent four years at Tailwind, and have been running Pinterest ads as long as they've been in existence. I was honored to speak for Social Media Examiner at Social Media Marketing World three years in a row on the topic of Pinterest – my favorite! I've been featured on many podcasts and webinars, including those hosted by SEMRush, LeadPages, Shopify, and more. I've had blog posts published on Social Media Examiner, Hubspot, and Businesses Grow.
My only request is that you don't mind the occasional furry visitor. As soon as the camera goes on, the cat comes out!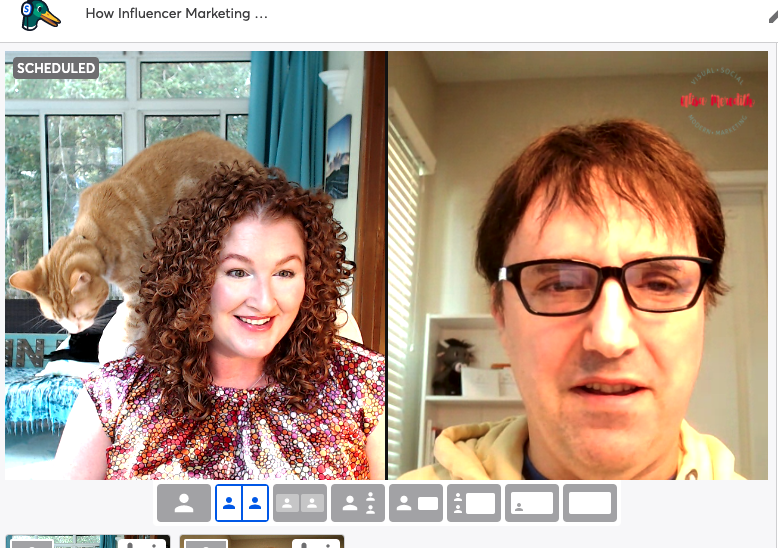 Here's a short bio you can use:
Alisa is a Product Marketing and Pinterest Pro – a fan of all things Pinterest and audience insights. Unapologetic cat lady and weekend fluid artist, you can also catch her live show that airs weekly on Facebook, LinkedIn, and YouTube and covers everything a small business owner needs to know about marketing – and sometimes features an attention-seeking cat. More information at Alisameredith.live.
Twitter: alisammeredith
LinkedIn: www.linkedin.com/in/onlineinboundmarketing
Instagram: alisammeredith
Some headshots you can use: