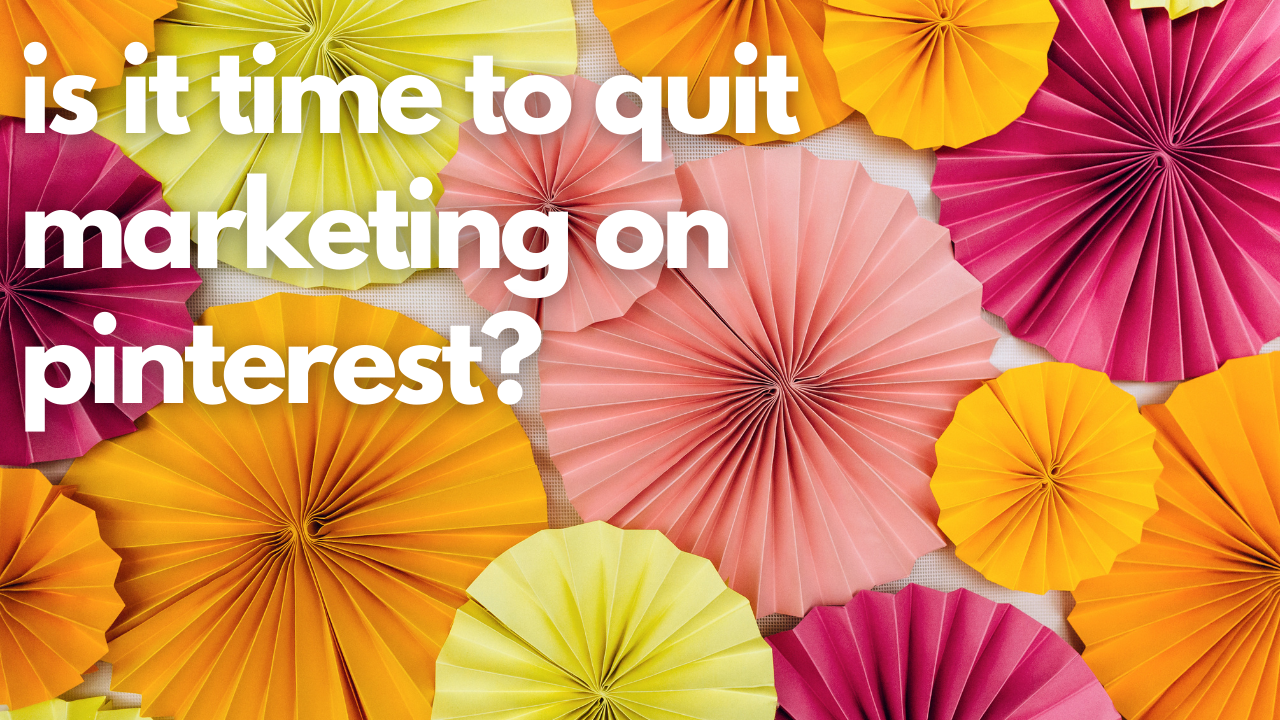 Why would a marketer consider giving up on Pinterest?
For starters, many marketers, bloggers in particular report falling distribution and traffic. If you're in any of the many blogging or Pinterest-focused Facebook groups, you've notice people talking (loudly) about that very thing.
Then there's the fact that Pinterest is strongly favoring Idea Pins which do not link to your website like a static or video Pin. We liked our free (and bountiful) Pinterest referral traffic!
And because none of us have unlimited time for marketing our businesses, it makes a lot of sense to reevaluate where we are spending our time.
The (Quickly) Changing Pinterest Marketing Landscape
A search for "skincare" on Pinterest returns almost exclusively a combination of Idea Pins (which don't allow a link to your site) and ads, just as my friend Meagan Williamson pointed out to me yesterday. And while that is a very popular and general search, it is clear that if Pinterest has enough Idea Pins to display for a particular topic, they are not likely to show your static or video Pins unless you pay to have them shown.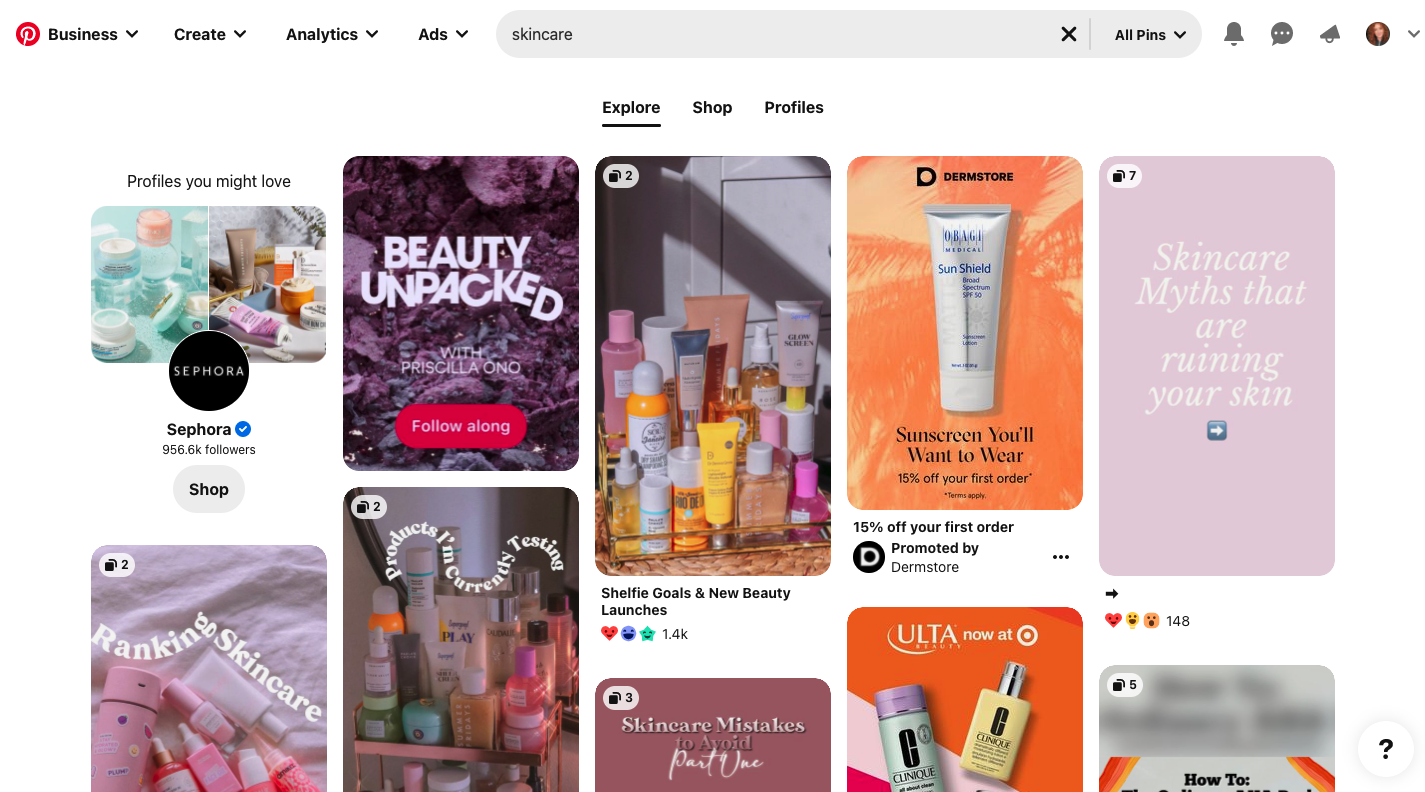 The writing is (and has been) on the wall. The gravy train of easy Pinterest traffic has left the station. 🚂. Where once we could create one image for a post and share it over and over again, practically beating our content into the algorithm, now that can get you at best, no results, and at worst, suspended.
Then we had the short era of "fresh Pins," where people created 10s or dozens of images for one article. It's not clear how well that ever worked (though it's a good idea to test your creatives). If your static Pins are not getting distribution or generating traffic, creating 20 isn't going to help.
And I get it. When "what always worked before" doesn't work anymore, it is frustrating! We feel as if something has been taken away from us. We rail, we moan, but it doesn't change the facts, so it's may be time to make a tough decision. Do we figure out how to win while playing the game, or do we move on from Pinterest for good?
Why it Might Be Time for You to Stop Marketing on Pinterest
Here are some reasons you might be better off spending your time elsewhere. You don't have to do all these things to be successful, but if you find several of these apply to you, it's time to make a tough decision. In? Or out?
You Don't Want to Make Idea Pins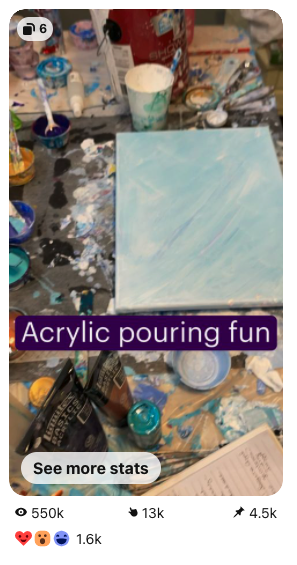 They've been very clear with us for over a year – this is a new Pinterest and new Pinterest is about Idea Pins. In fact, at a home design webinar presented by Pinterest last week, one of the hosts suggested that people don't want to engage by clicking links to visit a site. Whether they've seen that from their user data (and they have a lot of that) or not, the message is crystal clear. You're just not going to get that easy traffic anymore as your static and video Pins start to give way to Idea Pins.
If your niche is not saturated with Idea Pins now, it likely will be sooner or later. Most of the Pinterest educators out there have come around to the idea that we need to make Idea Pins (I admit, it took me a minute as well), but some are still encouraging people not to "give in" to making Idea Pins. If this is you or you're listening to these people, it might be time to quit Pinterest. You will not win by fighting what they want for the platform.
Idea Pins take a lot more time than static Pins or video Pins, but if you are creating content for Instagram or TikTok, why not record that on your phone's camera and use that raw footage to make unique content for each platform?
What if you're not in an industry that is an obvious fit for fun Idea Pin content? I wasn't sure how an Idea Pin of just me talking with some captions overlaid would do, but it's gotten orders of magnitude more distribution and engagement than any of my other recent Pins. Someone even messaged me on Instagram to tell me they'd seen it. 🙂
Please give it a try. Or don't. But don't be surprised when your static and video Pins continue to get pushed out by Idea Pins.
Your Business Relies Solely on Traffic to Your Site
If you're making money ONLY on ads which depends solely on visits to your site, Pinterest may not be the place for you anymore. If this is you, though, you have a larger problem. No one wants to give us free traffic anymore. They have bills to pay as well.
It's time to own your audience and your business yourself by offering, if not a physical product, then a workshop, membership, course, consulting, or something else where you aren't dependent on free social traffic to make a living.
You're Not Selling Anything on Pinterest
Pinterest has also been up front about wanting to be a shopping platform. Shopping feeds and priority placements for those in their Verified Merchant program give ecommerce sellers a leg up. And while you don't HAVE to sell a physical product on Pinterest to have success, you might want to give it a go.
Pinterest is the perfect place for retailers. People who use Pinterest are 40% more likely to say they love shopping and 3x more likely to say they're always shopping (source). And because Pinners are open to discovering new brands that inspire them, it's the perfect place if you're just getting started.
In an effort to immerse myself in ecommerce on Pinterest, I started a Shopify store and became a verified merchant. It took hours for the initial setup and application. That's it. You can do this. And you don't have to actually make anything at all. I set mine up using print-on-demand providers to sell prints and gifts featuring my paintings. Please check out My Wife Quit Her Job for other ideas that don't require you to manufacture, store, or ship anything at all.
When you have that shopping feed and tab you can tag your products in Idea Pins which is a roundabout way of adding a link to an Idea Pin!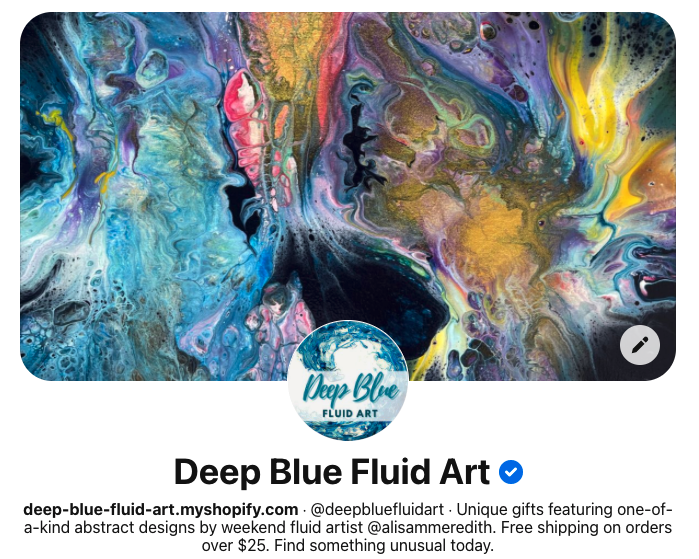 You Won't Pay for Pinterest Ads
Is Pinterest really "pay to play"? Yes and no. You CAN get distribution for your content if it's great quality and there isn't too much competition, AND they're Idea Pins. And while Idea Pins can increase your follower count and lead to profile visits (which can lead to clicks on your website link), they don't allow for a direct link to your site. UNLESS, you pay to promote them.
That's right, expected in February-ish, 2022, you'll be able to pay to promote an Idea Pin with a link.
Right now though, you can promote your static and video Pins for greater distribution. It doesn't have to cost a fortune, either. They tend to convert well with a warm audience, like website visitors, or your email list. And you can get inexpensive traffic from new visitors with Interest targeting.
When you pay for Pinterest ads, you will notice a significant bump in your organic Pin distribution which coincides with your spend, and sticks around – usually for a few months after your campaign ends. The decrease after a while is not Pinterest "punishing you" for stopping the ad. It's just the natural tapering off of activity that was bumped up from all that good downstream activity on your ads!
If I promote a Pin and you save it, when someone clicks on the one you saved, I don't pay for that! This makes Pinterest ads a pretty good deal for many.
Ready to advertise? Take my brand new course and save!
Why I Will Continue Marketing on Pinterest
It may be easy for me to say, since I didn't build a business or career solely on Pinterest marketing, but I'll continue to use Pinterest organic AND paid for my marketing. But that's kind of the point. I DON'T rely solely on one platform or one way of marketing, and neither should anyone else.
I'm curious! I want to see how this all shakes out. Idea Pins have done really well for my paintings. So well that as mentioned, I opened a store to sell works featuring my designs and started a new Pinterest account just for painting. Confession: I really shouldn't be confusing things by pinning about marketing AND painting but I had no idea it would do so well and I wanted to experiment.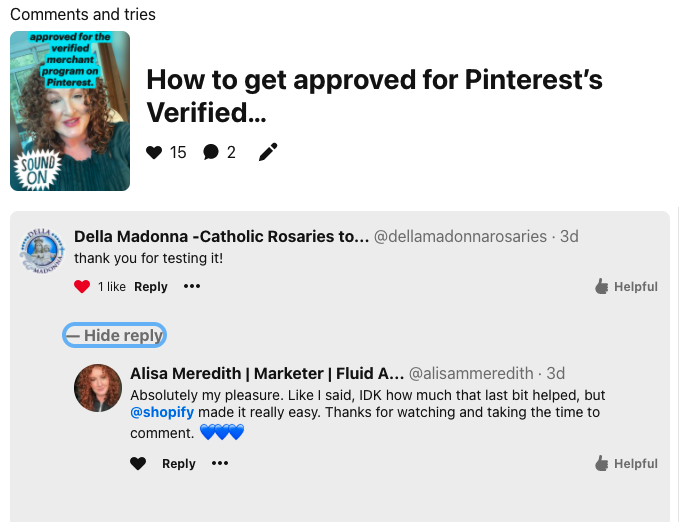 I still think Pinterest is fun. The addition of the comments and reactions I get on Idea Pins has made it feel slightly social – in a good way. I don't feel pressured to be on every day and respond in the moment, but it's nice when people ask questions, or have a thought to share.
I want to help others to succeed on Pinterest. As long as there is success to be had, I'll keep trying things to figure out what works and sharing that with my clients and readers. I can't do that unless I'm using it myself.
Want Some Help Making Pinterest Fun Again?
I can help with content planning and creation as well as Pinterest ads management. Shoot me an email at alisa(at)alisameredith.com and let me know how I can help you find your Pinterest joy again.
What's your decision? Will you stay or will you go?
Was this helpful? Please Pin me!
The following two tabs change content below.
I've been creating marketing strategies for years - for both B2C and B2B businesses, formerly as co-owner and chief strategist of a HubSpot partner agency, and since 2015 right here. I have a passion for businesses that make the world a better place in ways large and small, and the people who run those businesses are the ones I enjoy working with. I am slightly obsessed with Pinterest. Not just because it is fun, but because it works amazingly well for traffic and lead generation.
Latest posts by Alisa Meredith (see all)