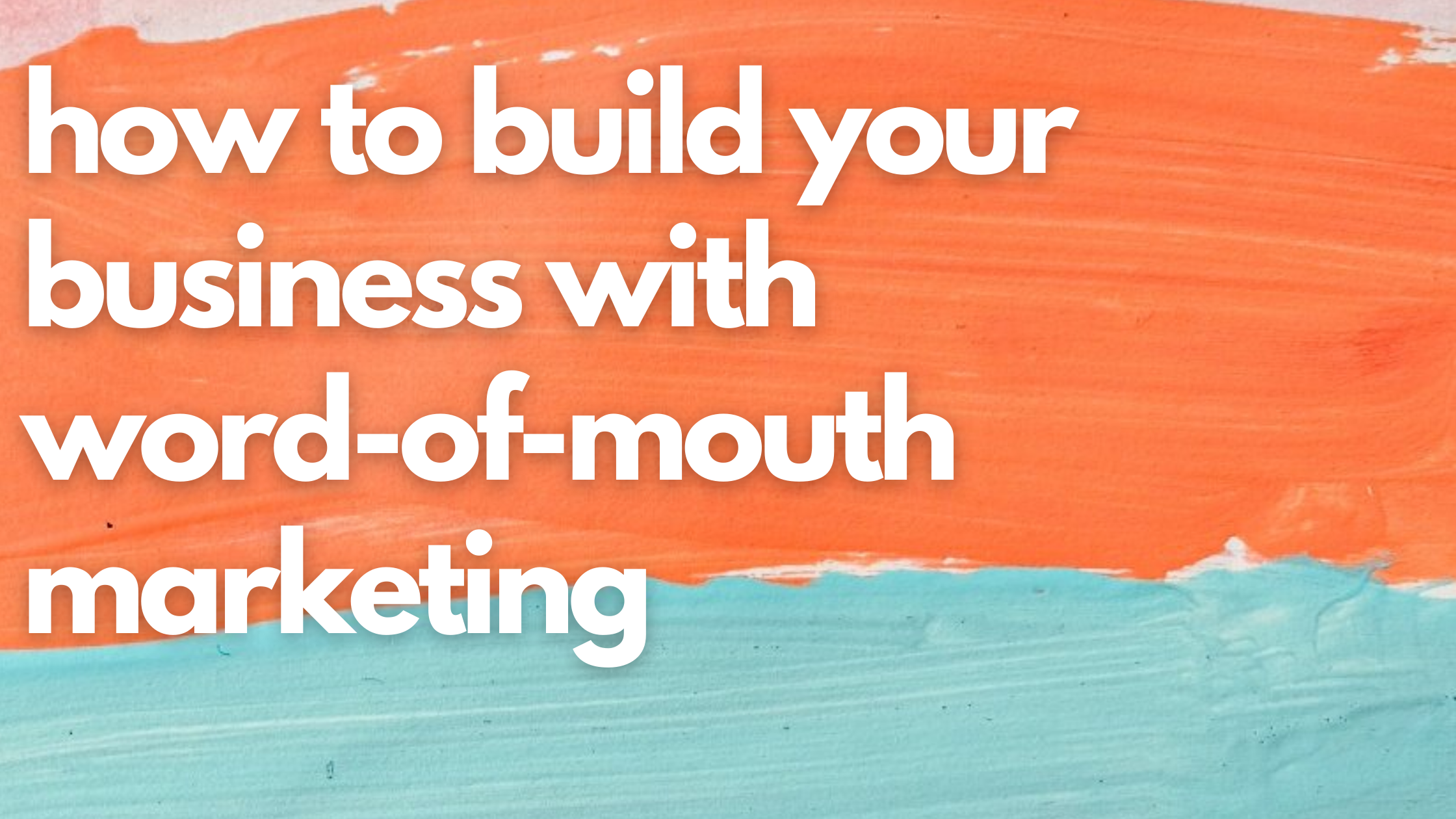 Ever feel like marketing advice comes down to "do more on more platforms"? This post is about getting us off that content treadmill for a minute to take advantage of something that influences 59-91% of all purchases – word of mouth! (source)
Though word of mouth is so incredibly powerful, most of us have no strategy to encourage and leverage it. Let's change that together
Crystal Tosh, owner of Rockstar Social Media, joined me on my live show this week. Crystal has built her own successful business on word-of-mouth marketing and showed us how to do the same! She calls herself the "empathetic marketer" and her business is booked and growing without a blog AT ALL. 😱
Success Without Blogging?
When setting up our interview, I told Crystal I'd check out her blog to figure out what to talk about. Mmmmm, that would prove to be a challenge.
"I need to create content for myself. I'm so busy that I never do, (but on Facebook) I'm super active." I'd argue that Crystal creates quite a bit of content, just not on her blog. Her Facebook posts are thoughtful, not short, and reveal much about her way of thinking. People respond and share, and when it's time to get help marketing their business, they think of her.
The Foundation for Word-0f-Mouth Marketing
A great product, valuable service, and great customer service are the very basics required for leveraging word-of-mouth marketing. Without those, you don't want people talking about you. 🙂
Give People a Reason to Talk About You
With that firm foundation, people may just talk about you and recommend you to friends or colleagues. But you're not one to wait around and hope!
No, you want to give people a REASON to talk about you. Jay Baer calls these reasons, "talk triggers."
No one talks about "OK" businesses – the ones that meet our expectations and nothing more. Nope, we talk about businesses that have let us down or those which have gone the extra mile to delight us. Think about the last recommendation you made to a friend. What is it that keeps them top of mind for you and motivates you to share this find with others?
For example, the company Chewy goes way above and beyond for their customers. If a pet passes away, it's not uncommon for Chewy to send flowers and a sincere note of sympathy. Even just the fact that they responded to social posts my silly photo of my pets enjoying a Chewy box solidified the impression that these are real people, who care. They don't have to go out of their way. But they do. Over and over again.
It's going to come down to something you do which is unique – remarkable. And you must be consistent. Are you the fastest house painter in town? Maybe, like DoubleTree hotels, you give every customer a little something extra (their chocolate chip cookies at checkin are legendary). Or you could be like the oral surgeon, who, knowing the anxiety people feel when it comes to dental work, calls every new patient before their appointment to introduce himself and answer any questions they may have.
The DoubleTree cookie has become a cultural phenomenon and the recipe is shared widely. Not because it's the most delicious recipe every (maybe it is), but because of the feeling it, and by extension, the DoubleTree checkin-process evokes.

Back in the day when I co hosted the podcast The Superheroes of Marketing, I sent a customized super hero cape to every guest. You'd better believe they talked about that!  I'd love to do something similar if someone wants to sponsor the show. But it doesn't have to be costly. Even a hand-written note can go a long way.
Encouraging and Amplifying Word of Mouth
This is where your marketing skills come in.
Keep in Touch via Email
Sometimes people need a reminder of how amazing you are. Providing useful, entertaining, or beautiful content to those on your email list keeps you and your reason top of mind. It also makes it easy for people to forward an email to a friend or colleague. Don't forget to tell them it's OK to share! People (me included) are much more likely to do so if you remind them to.
Co Market with Other Businesses
If your business is a local brick and mortar, you could co host an event or include a flyer for another business with each receipt.
Online, the opportunities are nearly endless. Host a webinar together. Have them on your show. Write a blog post for each other's sites. Share each others content on social.
Being invited to address the audience of another business is, in effect, an endorsement by that business. Be yourself, and let your partner tell people how great you are and about the reasons people talk about you. Just make sure to do the same for them.
Networking – Go Where the Customers Are
Online or offline, find out where your customers congregate. Is it a Facebook group? The local Chamber of Commerce? Whatever the case, become part of that world.
You're not there to sell, remember. You're there to provide value, which reminds people to talk about you with others and can encourage new customers to approach you.
Ask People to Talk About You!
Sometimes we all need a little reminder. You can include links to review sites in your emails or post a "please review us on xxxx" sign in your store. And you can ask people directly if they would write a recommendation for you, maybe on LinkedIn, Facebook, or wherever your customers tend to hang out online. The best time to do that is right after you've delivered an outstanding experience. You can then use these endorsements in your marketing!
Share Your Knowledge in Podcasts Episodes and Webinars
Host your own or get in front of a new audience by sharing what you know. Have a great case study? You can approach hosts with your pitch and offer to share what you've learned with your audience. Show hosts get a lot of these, so do some research and make sure you're only approaching people whose audiences would be interested. Then inject a bit of personality to stand out. You can even include a video you make specifically for this purpose to give them an idea of how comfortable you are on camera.
Ask for Customer Testimonials
Ask when you deliver results. You can start the conversation by asking, "Are you 100% satisfied with the work I did?" Then it's an easy transition to ask if they would be willing to write a few sentences about the experience and results. Sometimes people prefer a prompt to get them started, so you can suggest something like, "Working with (you) resulted in a 3X growth in sales over 3 months. I never would have been able to achieve these numbers alone!"
You can send a request for a recommendation on LinkedIn, which gives it a bit of weight, and then use the text on your website or on social updates.

Ask for Referrals
When you're asking for a testimonial, you can ask if there is anyone they know who might need your help. While they may not want to hand out contact information (and cold outreach can be awkward), you can ask if they'll connect you via email or mention their experience with working with you.
In Conclusion: Building Your Business with Word-of-Mouth Marketing
While we may think of word of mouth as being something our customers do for us (and it is), there is much we can do to get that conversation started, and to amplify it when we do. Which of these ideas will you try next?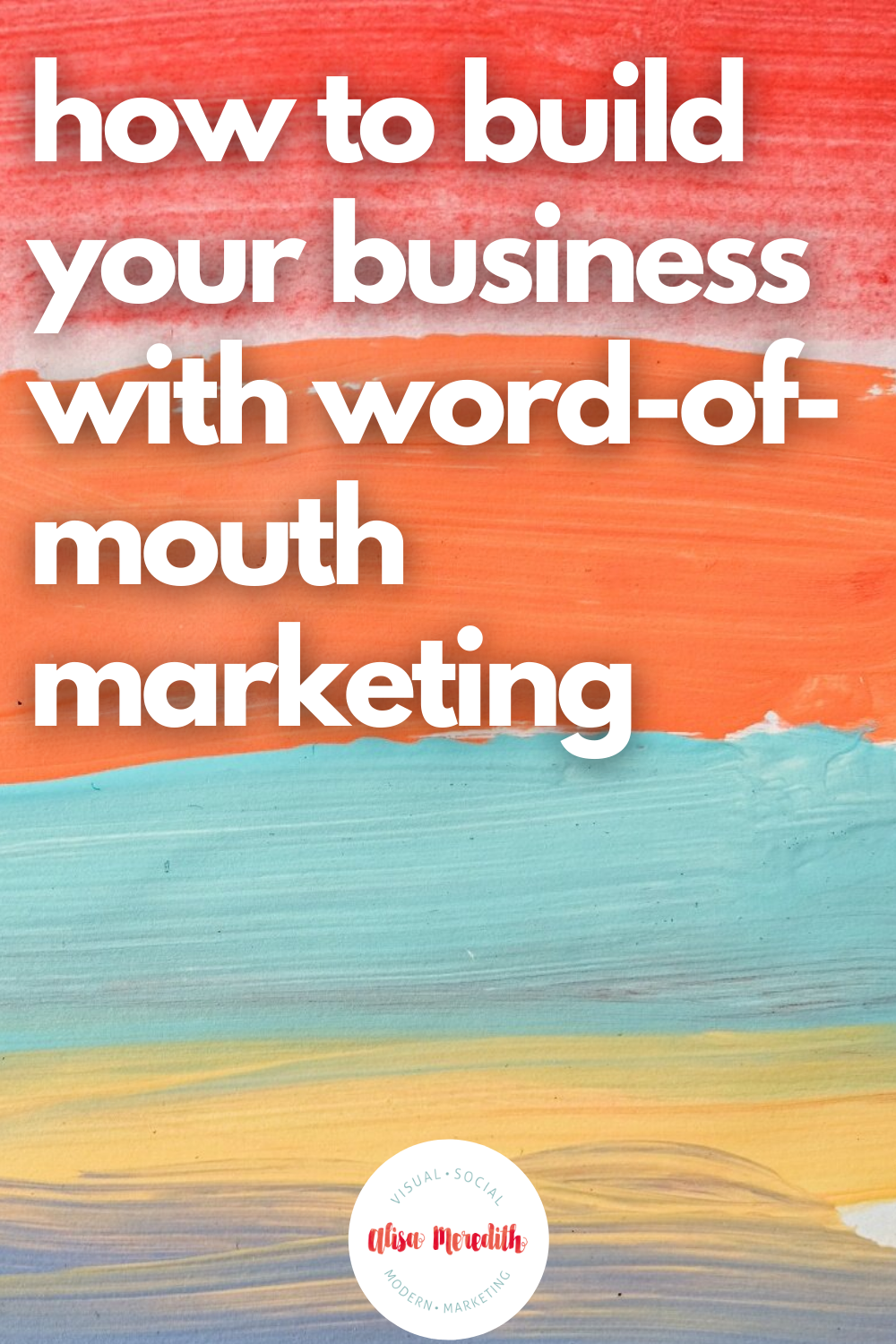 The following two tabs change content below.
I've been creating marketing strategies for years - for both B2C and B2B businesses, formerly as co-owner and chief strategist of a HubSpot partner agency, and since 2015 right here. I have a passion for businesses that make the world a better place in ways large and small, and the people who run those businesses are the ones I enjoy working with. I am slightly obsessed with Pinterest. Not just because it is fun, but because it works amazingly well for traffic and lead generation.
Latest posts by Alisa Meredith (see all)