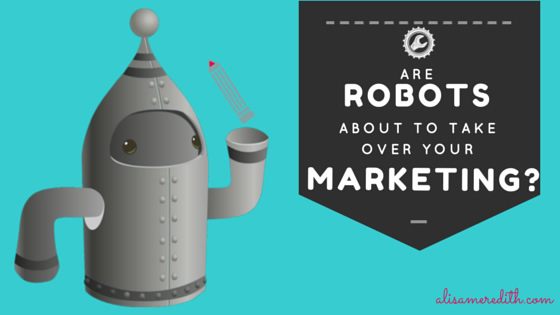 Last night I listened to Dave Davies interview Martin Ford, author of Rise of the Robots on Fresh Air. It wasn't about the latest sci-fi or dystopian thriller – rather about the way robots are increasingly taking over jobs once thought only accomplished by humans. Sure, we all know about the way robots have co-opted manufacturing jobs, particularly in the auto industry, but those formerly high-paid workers who were forced to take lower-paying service sector jobs are finding the robots making inroads there as fast food and even retail stores are exploring options to take humans out of their side of the transaction.
It doesn't stop there. It used to be that experienced lawyers could command high salaries for their experience and resulting ability to predict outcomes. Now that can be accomplished with software and a low-paid employee. And let's not forget the way machines have taken over so many customer service jobs.
Still, our collective frustration with never-ending hold times, confusing telephone menus and the way we'll press "0" a dozen times in an attempt to reach a living, breathing human being raises the question – are we really ready for this?
Can You Program Creativity?
Already original musical compositions are being created by software. Even original paintings are no longer the domain of humans and the occasional elephant painter. 🙂 Even that news story you just read online may have been generated by a computer.
How will this impact our view of human-generated art? Will we appreciate it more? Less? Will technology evolve to the point that compelling blog posts and novels can be generated with the push of a button?
Will your marketing one day be accomplished cheaply and effectively by a button-pusher at a computer? Could it possibly be as evocative as something created by a human?
Already, marketing automation and big data are impacting the way we market and are marketed to. What's the next step?
Computers are limited to spitting out what we put in – or are they? Computer programs are increasingly enabling deeper connections between data. Could this soon replicate thought and creativity, making software no different than the rest of us who also learned from sources outside our own minds?
I would like to say "No," but instead, I'm left wondering:
Where Will All The Jobs Go?
Already software, robots, and those who create and program them are beginning to push in on the supply of well-paying careers, leaving more increasingly low-paying, low-skill requirement positions. So, we should probably all stop what we are doing and create the next best robot.
Have a listen and see what you think.
The following two tabs change content below.
I've been creating marketing strategies for years - for both B2C and B2B businesses, formerly as co-owner and chief strategist of a HubSpot partner agency, and since 2015 right here. I have a passion for businesses that make the world a better place in ways large and small, and the people who run those businesses are the ones I enjoy working with. I am slightly obsessed with Pinterest. Not just because it is fun, but because it works amazingly well for traffic and lead generation.
Latest posts by Alisa Meredith (see all)