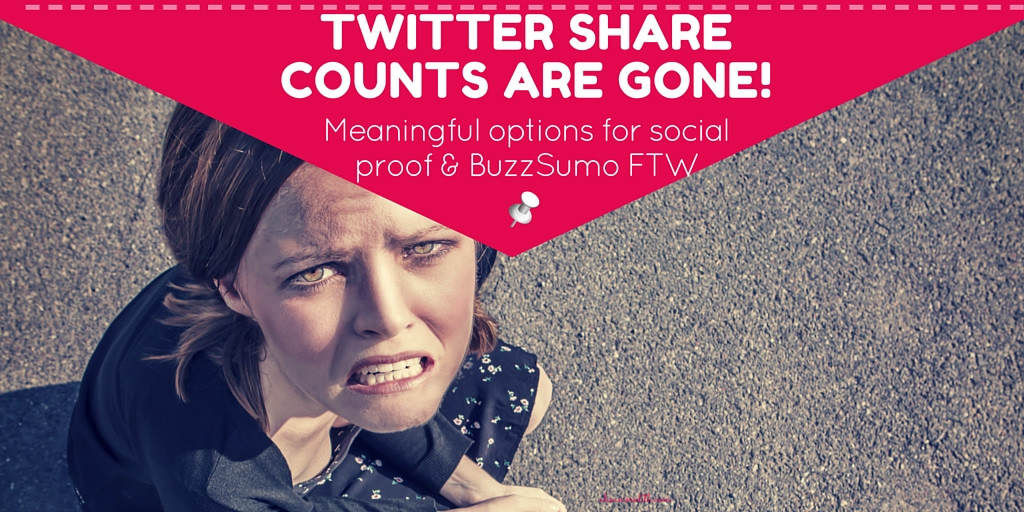 Notice anything different on your favorite blogs? Wondering where your Twitter share counts have gone? They've flown the coop. That's right. All those social sharing buttons that show people how many readers (I'm being optimistic) are sharing to Facebook, LinkedIn, Google+, and Pinterest are accompanied by a big fat nothing from Twitter.
Twitter Share Counts Disappearing – Who Cares?
A lot of people. Seeing a large number of Twitter shares on a blog post encourages people to share. It's Social Proof 101. That is "the crowd is doing it, so I should, too" motivation that we'd all like to pretend we're beyond. But we're not.
The outrage is real, and will likely get louder. Fact is, Twitter is not obligated to provide this data. They warned developers who have been profiting from this freely-available data that they were not promising to support it forever. But, in true internet style, people have developed a feeling of entitlement. It happens any time a private company goes public and needs to make shareholders happy. What was once free (and even a money-losing) feature now must be paid for.
Why Twitter Did It.
Not that many people believe them, but Twitter says they are making a technology upgrade that doesn't include ability to provide these share numbers and that customizing it to provide them is not the best use of their resources.
Maybe, but it could also be that they want to make the offerings of some of their acquired data providers (Gnip) more attractive. And, it's working. BuzzSumo is using Gnip to continue providing share counts on both their online dashboards AND a free Chrome extension.
The Bigger Story About Social Proof
Are Twitter share counts REALLY the best way to determine the quality of content? Of course not. In Twitters explanation, they very intelligently point out,
"The Tweet button counts the number of Tweets that have been Tweeted with the exact URL specified in the button. This count does not reflect the impact on Twitter of conversation about your content — it doesn't count replies, quote Tweets, variants of your URLs, nor does it reflect the fact that some people Tweeting these URLs might have many more followers than others."
Whether they are deflecting or not, it's worth considering what other kinds of social proof might actually be more effective for your business, especially now when this easiest of social proof metrics is available only on a dashboard or plugin.
Other Options to Provide Social Proof Include:
Testimonials
Reviews
The "billions served" approach – tell people how many others are subscribed to your newsletter, who is viewing this listing, or how much money you saved your customers this month.
User-generated content – scrub the web for nice things people are posting about you.
Embed Tweets of the nice things people say about you or something you wrote.
Get an influencer from your industry to endorse you or your product.
Bonus points if you can get any of these in video form. It's easy enough to make up a testimonial – not so much to fake a video.
Interested in learning more about social proof, the Twitter API shutdown, and BuzzSumo's solution (it's free, get it)?  Follow our boards or watch the conversation on Blab.
Follow BuzzSumo's board Twitter API shutdown on Pinterest.
  Follow Alisa Meredith | Marketing's board Social Proof on Pinterest. Pin Me!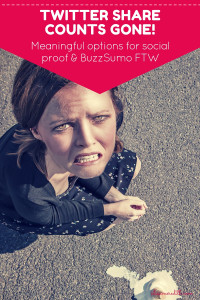 The following two tabs change content below.
I've been creating marketing strategies for years - for both B2C and B2B businesses, formerly as co-owner and chief strategist of a HubSpot partner agency, and since 2015 right here. I have a passion for businesses that make the world a better place in ways large and small, and the people who run those businesses are the ones I enjoy working with. I am slightly obsessed with Pinterest. Not just because it is fun, but because it works amazingly well for traffic and lead generation.
Latest posts by Alisa Meredith (see all)