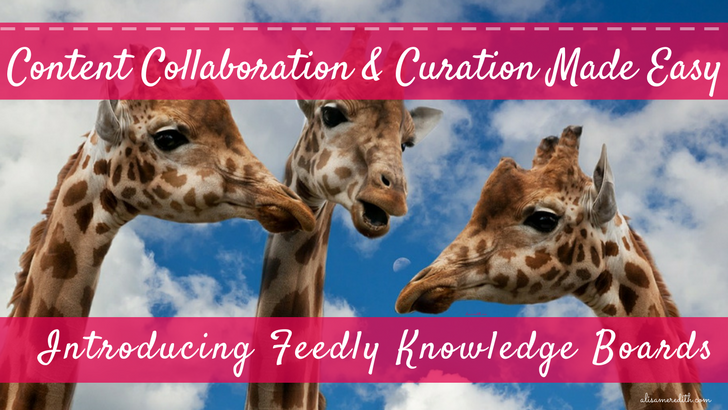 Summer is knocking on our doors, and as we heed the call and head out for a break at the beach, the mountains, or by the pool, the last thing we want to think about is curating and sharing great content with our teams and wondering if they actually see it from a towel in the sand. Alas, it must be done!
If you use any kind of rss reader like Feedly, no doubt you daily find content gems that simply MUST be shared with someone on your team. If you were in the same room, you might shout for them to come have a look. But so many of us are working remotely, and in an office, you may get more dirty looks than expressions of gratitude in exchange for your enthusiasm!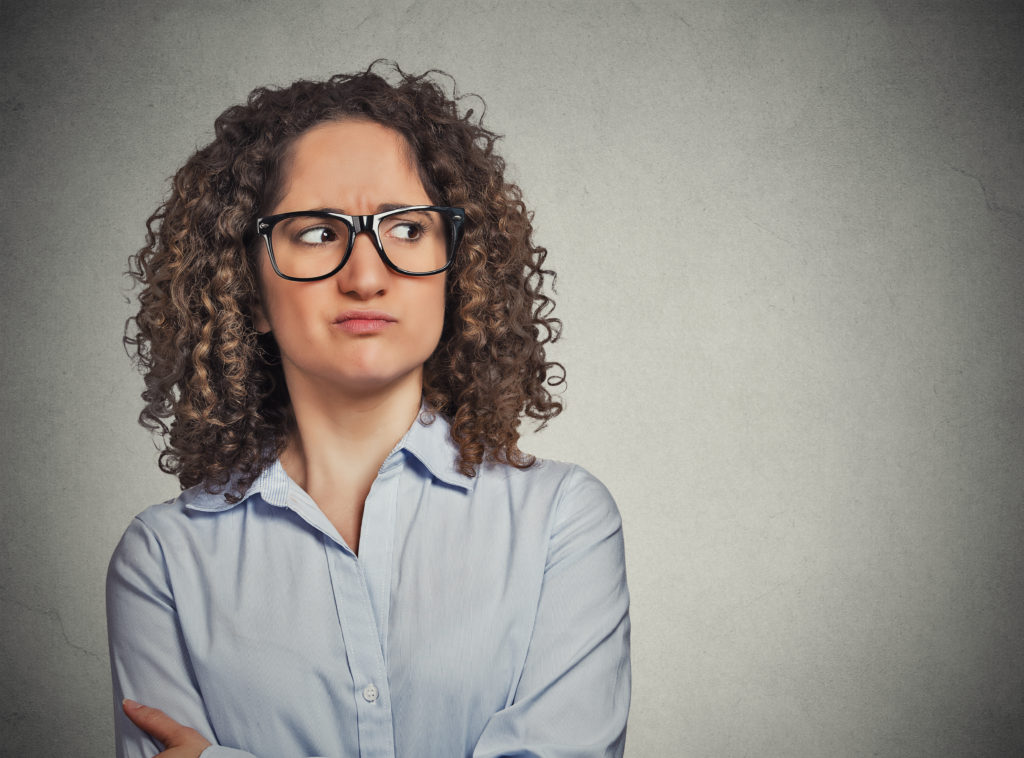 Maybe you spotted something that supported a point you heard in a recent meeting, or stumbled upon something that would help her with her research on an upcoming article and you know she'll love it. Or you know your colleague has a tough time finding appealing information to share on her client's pest control Facebook page. It's always nice to share a little gem!
But you'd rather not interrupt her day with a message on Facebook or Slack, and you don't want it to get lost in an overflowing email inbox – especially if she's on vacation. But you want her to see it and you want to provide some context – maybe even highlighting part of the article in particular. After all, she's busy, too!
You could create a secret Pinterest board, because you KNOW you love Pinterest, but in this context there might be an even better way (I know, I know) with some really handy automations.
Aptly Named – Knowledge Boards From Feedly
You may already be using Feedly to keep up with your favorite blogs and to curate great content for social media. You might even be using some IFTTT integrations to automate some tasks. But there still wasn't a seamless way to share and manage content.
Introducing Knowledge Boards from Feedly. Formerly called Tags, Knowledge Boards allow you to collect articles, highlight important sections, add notes, and if you have the Team plan ($145/year per user), you can share your boards and @mention team members in your notes.
Get Started with Knowledge Boards for Teams: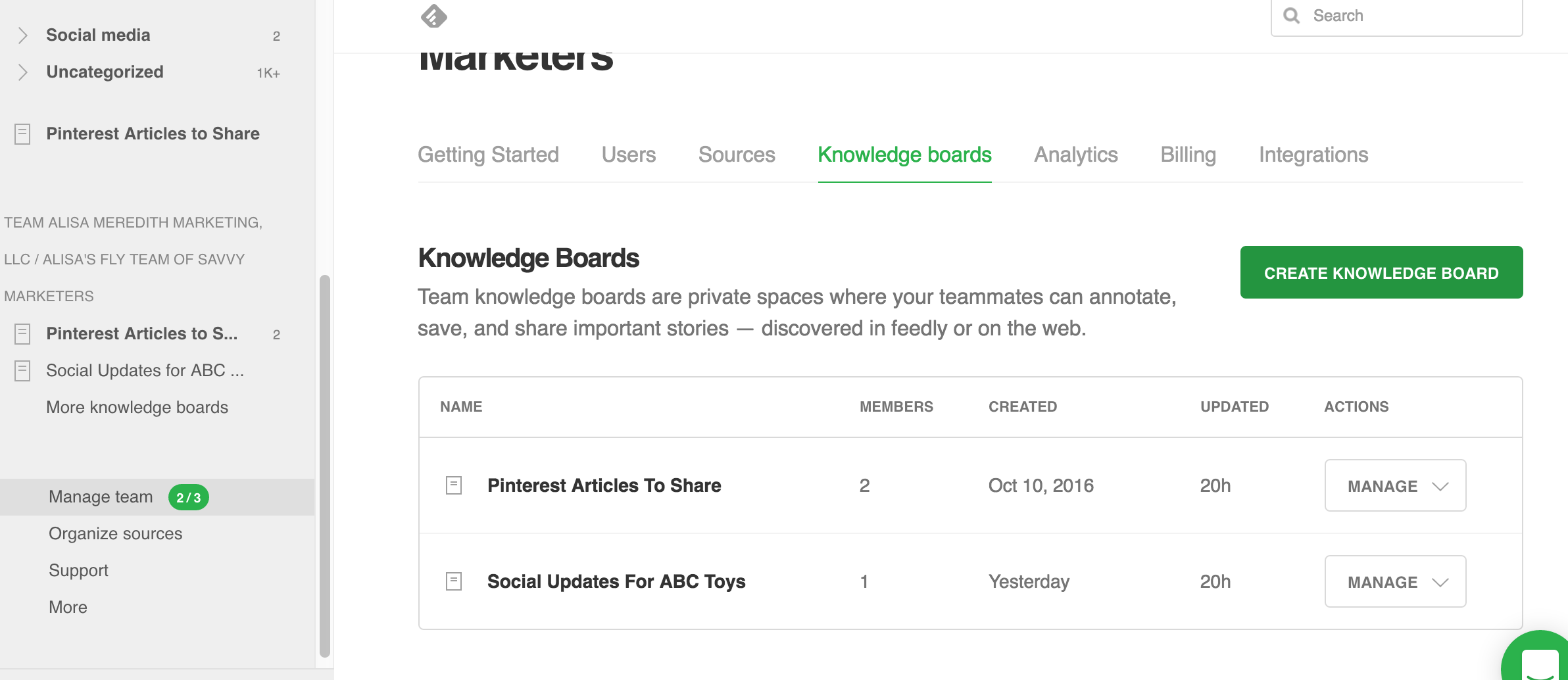 The first time you use Knowledge Boards, you'll want to get a feel for the sharing and integrations, so start in your team management section (at left) and click on Knowledge Boards to create a new.  You can connect with Slack, so all your articles go to a specified channel, and even have a daily email sent with all the day's content – to board members, or anyone else!!!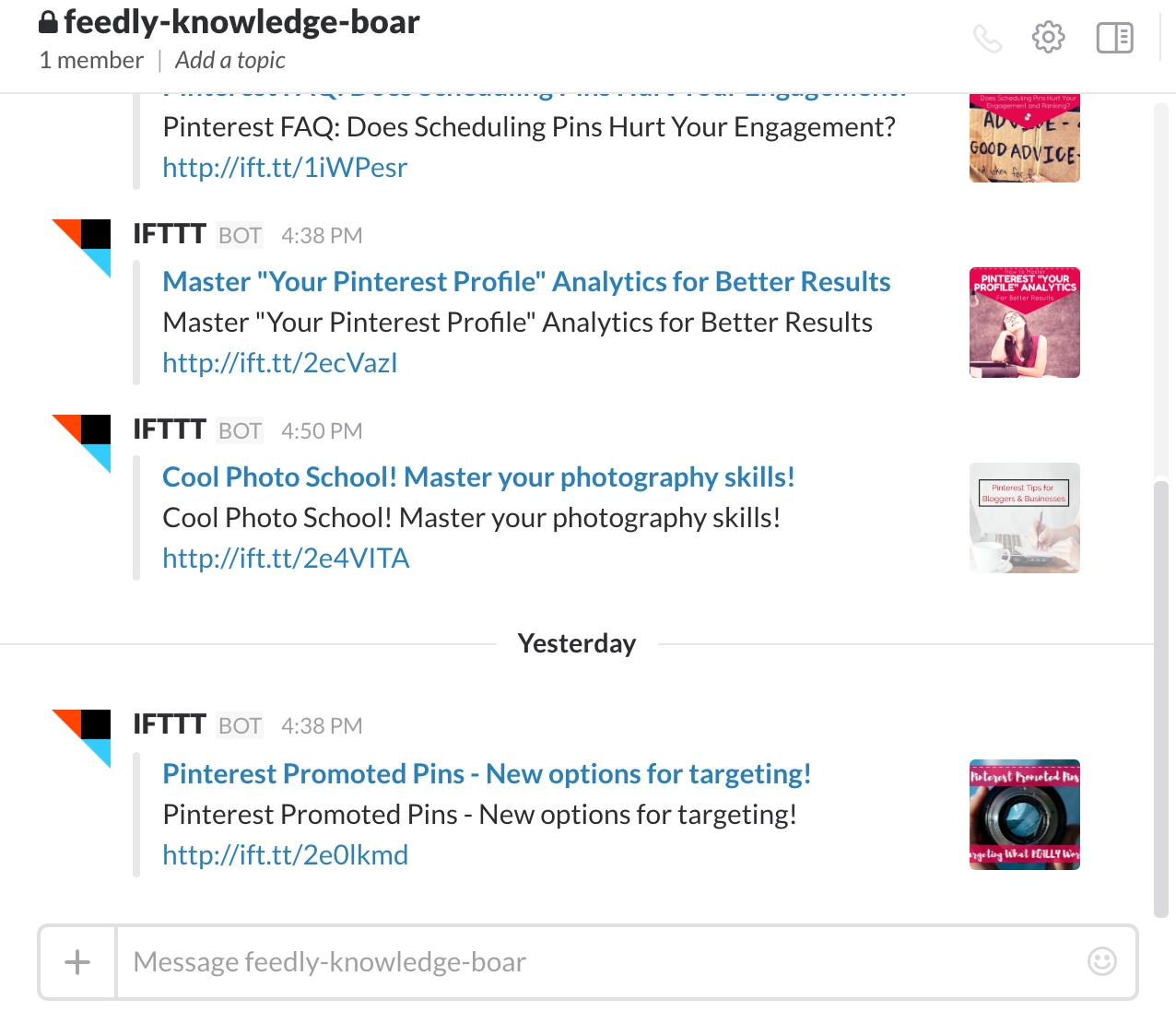 When the board is set up, make sure to click into that board and add any team members who should see what you're sharing there.
Now, find something you want to share to a knowledge board. Click on the "Save to knowledge board" icon (probably just to the right of your "Save for later" icon). Create a new board, add notes, highlight key points (your avatar will appear next to your highlighted parts). You can mention board members by username or email, too.
For on-the-go curation, get the Knowledge Boards extension for your browser or use the Mobile App.
Over to you – what use cases can you see for Feedly Knowledge Boards? Tweet me!
Pin me!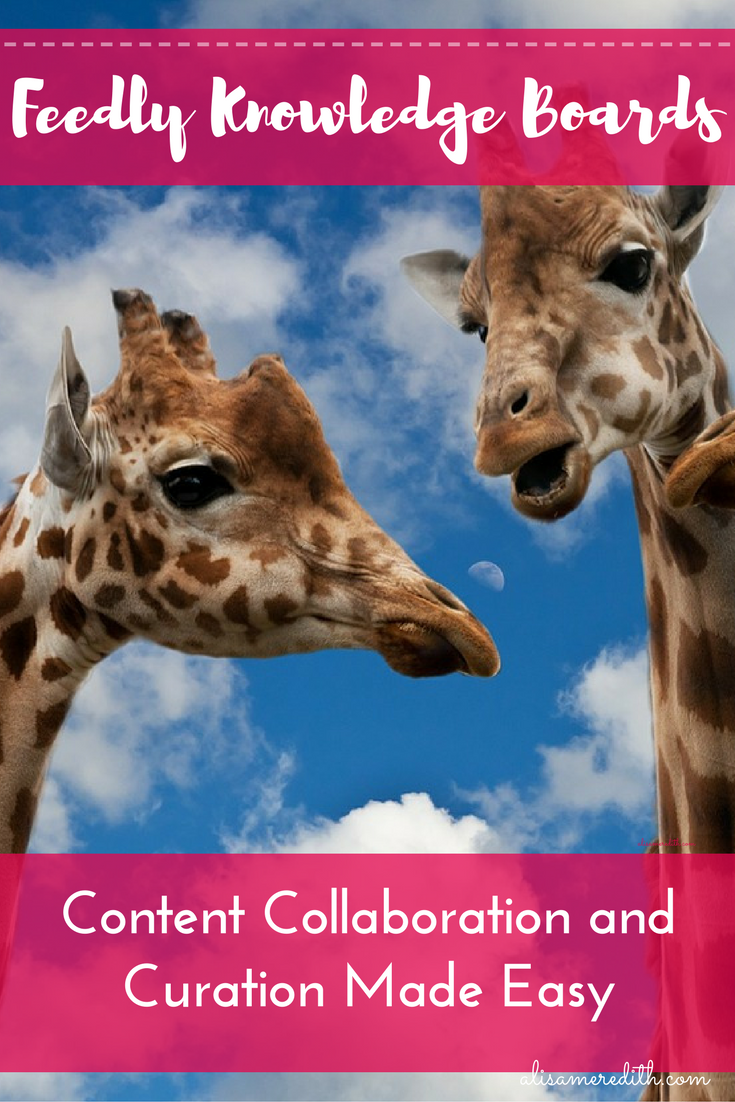 The following two tabs change content below.
I've been creating marketing strategies for years - for both B2C and B2B businesses, formerly as co-owner and chief strategist of a HubSpot partner agency, and since 2015 right here. I have a passion for businesses that make the world a better place in ways large and small, and the people who run those businesses are the ones I enjoy working with. I am slightly obsessed with Pinterest. Not just because it is fun, but because it works amazingly well for traffic and lead generation.
Latest posts by Alisa Meredith (see all)