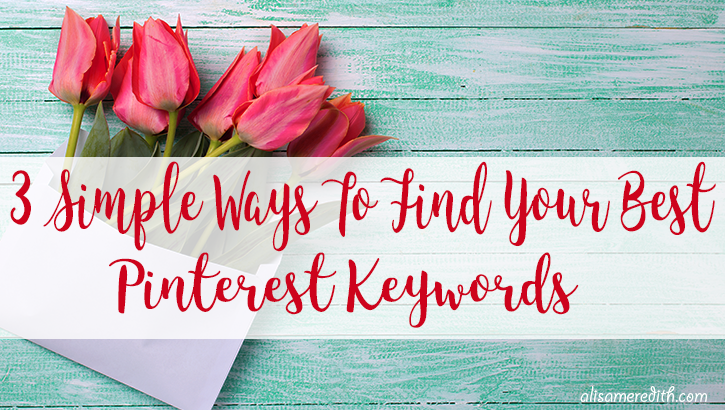 Pinterest is a search and discovery engine. And any time we as marketers think "search" we think "SEO." And well we should! Keywords ARE a factor in how many people will see your content on Pinterest. And while effective use of keywords on Pinterest is not the only thing that matters, every little clue you can give the network will help more people find you and your fantastic articles. Choosing the right keywords is also vital in effectively using Pinterest advertising, or Promoted Pins.
So many pinners struggle with which keywords to use on Pinterest – either for their profile description, board titles, descriptions or individual pin descriptions (see all 11 places your keywords should go here) or when targeting a promoted pin. If this is something you've wondered about, you've come to the right place!
Now, you may well have a list of keywords and phrases generated by your website developer or SEO specialist to make Google happy. While that may be a good place to start, pinners do not behave in the same way as your average search engine user. You'll find some of the terms need to be tweaked a little.
Pinterest Keywords – Where to Start
We're going to assume that you know your customers pretty well. You know what they want from you and your products or services, and more importantly on Pinterest, you have a good idea of what they want out of life overall as it relates to what you offer (better health, a sense of style, more time with the family, a more successful business). So, even if you haven't done any formal keyword research, certain terms will naturally come to mind. Start with those.
Get out your notebook or fire up Evernote now. You're going to want to write down your results!
Begin with the Obvious
Let's assume your niche is in the health and wellness industry and you focus on helping people lose weight, improve their health, have more energy, and feel better about themselves. Lots of terms come to mind right away:
lose weight
lose fat
get more energy
build self-esteem
reverse diabetes
lower cholesterol
reversing adrenal fatigue.
Nice start, but we need more – and we need terms pinners are actually searching.
1. Expand Your Keyword List with Auto Fill
You know how in Google, when you're typing in a search query, it tries to guess what you want, or suggest searches for you? It's kind of scary what it assumes you're looking for because it means that that's what other people are searching for. Annnnnyway, Pinterest does something similar for you. Let's start with "lose weight." Enter it in to the Pinterest search bar and look at what happens…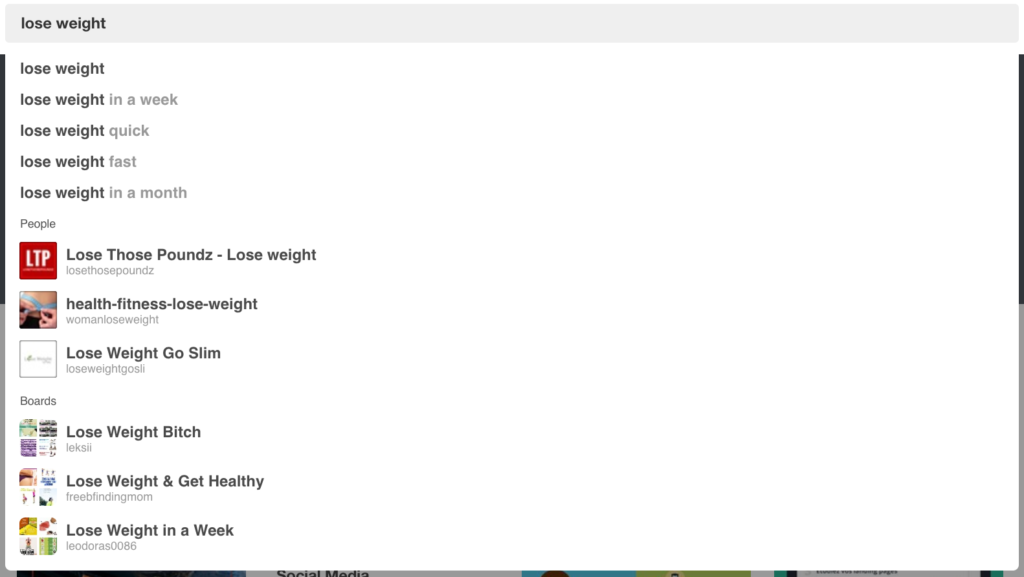 See those suggested search terms, "lose weight in a week," "lose weight quick," etc.? Those are searches other pinners are using to find what they want. Add those to your list.
Bonus Tip: See the people and boards that show up? You can investigate those for clues as to why Pinterest would recommend them and emulate what they're doing. Often times, they are people or boards you follow, but sometimes they're just being suggested to help you discover something new. See if you can find out what makes Pinterest think they're helpful.
2. Use Guided Search
Pinterest has given us Guided Search to help us refine our own search results. In doing so, they are also giving pinners valuable insights into what people REALLY want when they enter a broad search and what people actually search for. Look at the tiles that appear our search for "lose weight":

What this tells you is that "lose weight in a week" is a popular search on Pinterest. That key phrase probably deserves a spot on your list. Later on you can decide what, if anything, you want to do with it on Pinterest. Add any applicable phrases to your list, and then do the same with the other words on your original list!
As you find more guided search results, click on those colored rectangles for even MORE related terms. Your list is getting a lot longer, isn't it?
Bonus Tip: Make sure you don't exclude too many of the options shown. Even if it seems a little outside your niche, is there a way you can use it to attract people searching for that topic but who may be delighted to find your content? We'll cover that more deeply in a future post.
3. Check out Pinterest "Topics" or "Interests"
Here's a tactic I learned from Vincent Ng. It used to yield practically magical results, but while things have changed a bit, it's still helpful in getting found. When you sign up for a new Pinterest account, you are asked to follow at least five topics (topics used to be called interests). Pinterest uses your selections to curate your feed from the very beginning, and as long as you continue to follow them, they'll keep showing up in your feed.
So, you want YOUR pins to show up in the home feeds of people who follow relevant topics. These people may or may not be following your account, but they'll see your relevant pins. How can you get in on that? One way is to utilize an exact-match keyword for the topics. So, let's find yours…
What we are looking for is a topic – a topic people can opt to follow. And we want one with a good number of followers, but not too many (that sweet spot between not popular enough and too much competition).
Go to pinterest.com/topics/weight-loss and see what you get (multi-word phrases should be separated by a hyphen). It should look something like this: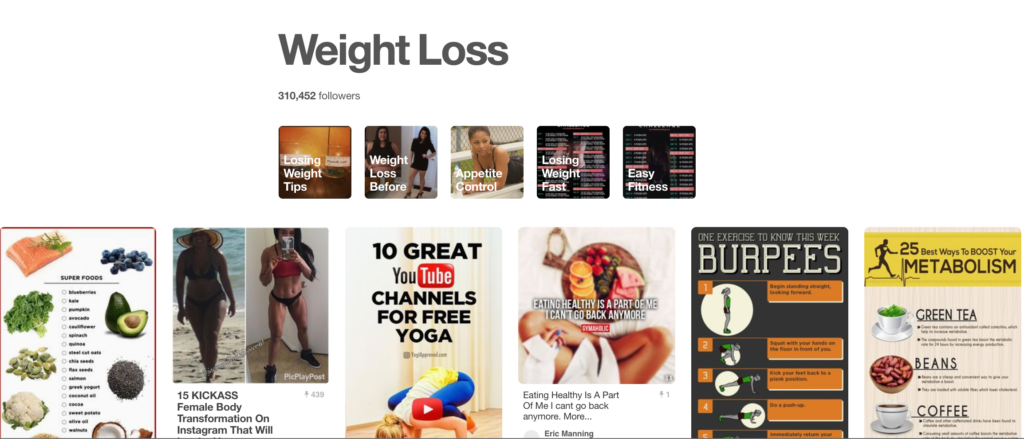 That's what you want to see – the number of followers above the squares. This means "weight loss" is a topic that Pinterest curates and serves out to people who follow the topic! Three hundred ten thousand is a pretty large number of followers, so I would click through the ones in the squares and see what was more achievable there. You are about to go down a rabbit trail here. Pick out some topics that are relevant and add those to your list of keywords. Make sure you indicate that they are topics (give them an asterisk, and underline, or bold them) so you'll know to prioritize use of these phrases later.
Bonus Tip: Note that not all the words in your list will be topics. In fact, many will not, but give it a try, as these are your super keywords!
Now that you have your keywords, put them to use. Check out this blog post, and stay tuned for more articles on using your keywords in your Pinterest marketing strategy!
Did you find this helpful? Please pin me!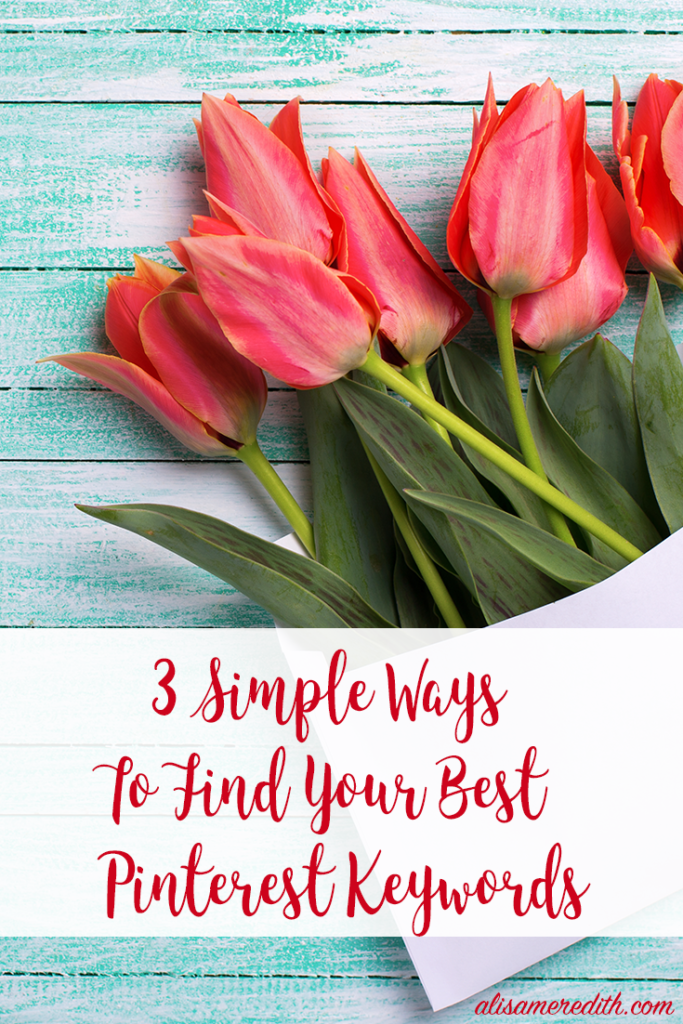 The following two tabs change content below.
I've been creating marketing strategies for years - for both B2C and B2B businesses, formerly as co-owner and chief strategist of a HubSpot partner agency, and since 2015 right here. I have a passion for businesses that make the world a better place in ways large and small, and the people who run those businesses are the ones I enjoy working with. I am slightly obsessed with Pinterest. Not just because it is fun, but because it works amazingly well for traffic and lead generation.
Latest posts by Alisa Meredith (see all)