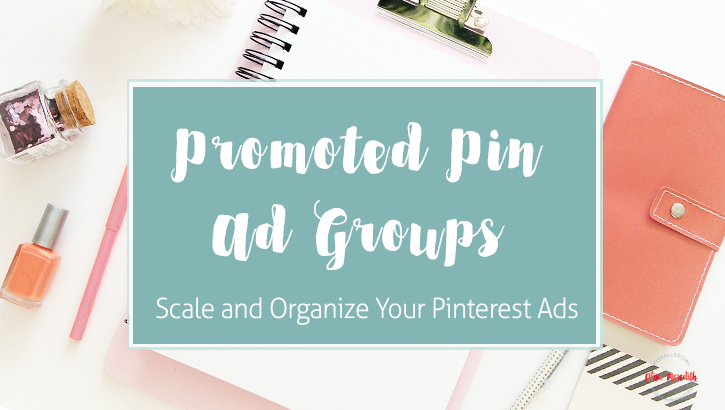 It just got a tiny bit easier to manage your Pinterest Promoted Pins. But just what IS the hierarchy of Promoted Pins with the addition of Ad Groups? Where do you set what? And how can they be used to scale the creation and management of Promoted Pins?
What it's Not
We are still way behind what Facebook advertising offers in the way of scalability. There is no way to duplicate a campaign, and ad group, or even a pin. In fact, you can't even delete anything or move a pin to a different ad group or an ad group to another campaign!
So, it's not going to make the Promoted Pin platform equal to Facebook in terms of organization and speed of setup. We have a loooonnng way to go for that.
What the New Campaign Structure Does for Pinners
The Pinterest Promoted Pin Campaign Structure gives us a better way to group ads and to more quickly ad a pin to the same targeting/bid group.  Still as clear as mud? Check out the campaign structure for a visual: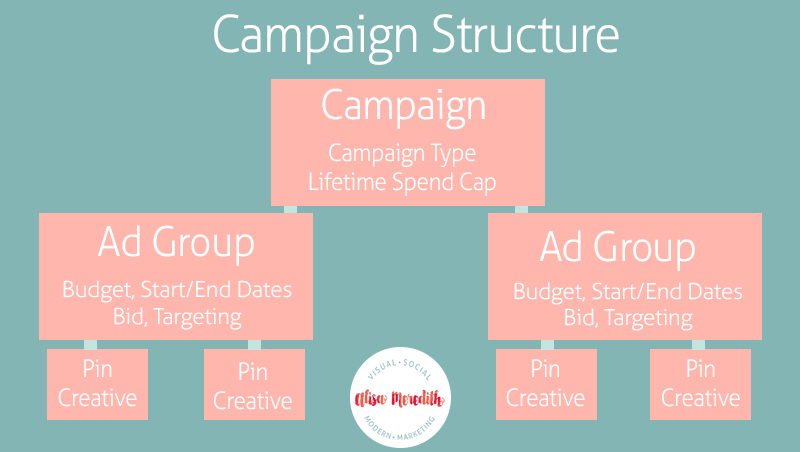 How does that translate to setting up a Promoted Pin campaign? Let's say you have new product. It's a pillow with birds on it (tres chic!) and you want to spend a total of $1,000 to promote it on Pinterest. You could, for example:
Create a campaign called "Bird Pillow."
Create one ad group each for:

$5/day targeting all your email subscribers
$5/day targeting people who visited any pillow-related pages on your site
$5/day targeting by keywords
$6/day targeting an actalike audience of your email subscribers
For easy reference, make sure you name your ad group in a way that reflects your targeting.

Add as many pins as you like to each ad group.
This last part is where the time saving comes in. Test multiple images and descriptions without having to set up any other targeting or details. Just name it, add your tracking URL, and go!!! Look how simple it is: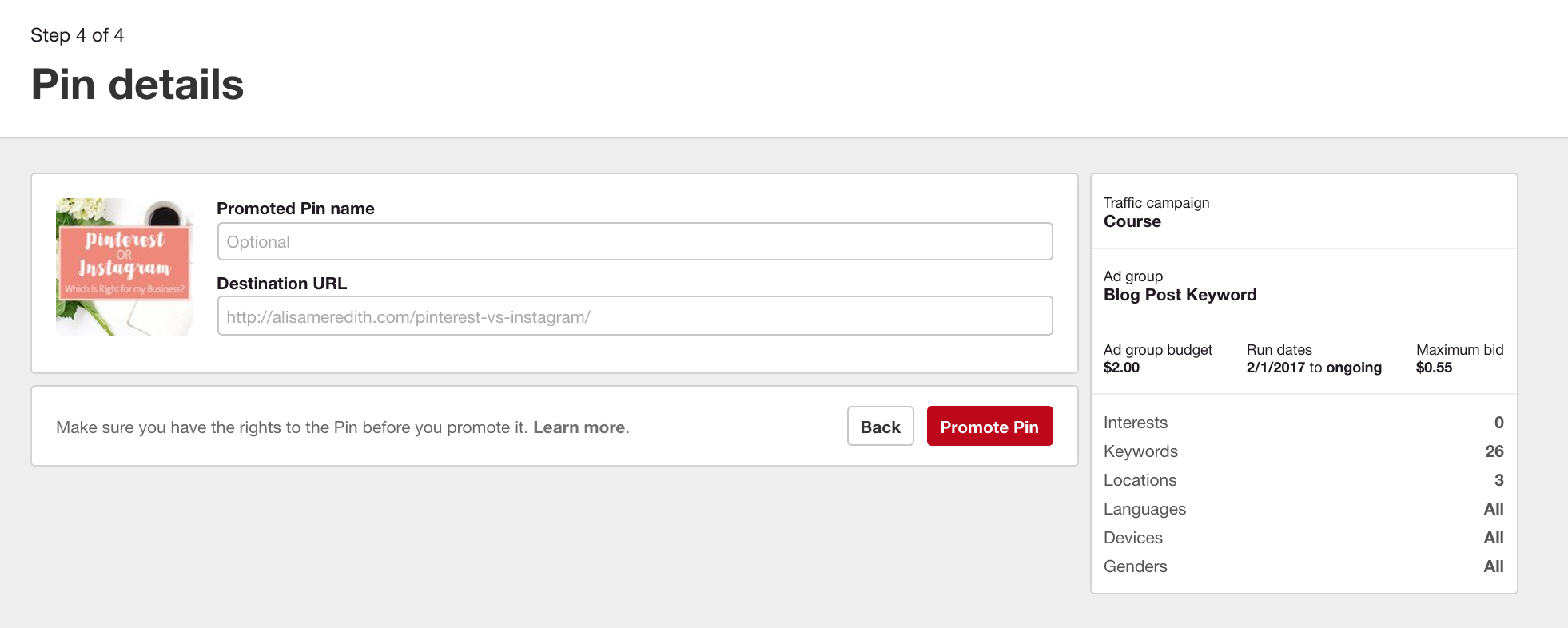 Makes you want to test more, doesn't it? And as with individual ads inside the old campaigns, Pinterest will optimize your ad performance by displaying the top-performing pins more than the others. So, even if you forget to go back and check, you're covered!
Upgrading to Ad Groups? One Caution.
When you get ad groups, some have reported that all your paused ads inside active campaigns will all be set back to active. So be prepared to go in and review to make sure what is active is ONLY what you want active. They really should have warned people about this little hiccup!
Have you seen the new Ad Groups yet? Can you see more ways we can use them to scale and organize? Let me know!
The following two tabs change content below.
I've been creating marketing strategies for years - for both B2C and B2B businesses, formerly as co-owner and chief strategist of a HubSpot partner agency, and since 2015 right here. I have a passion for businesses that make the world a better place in ways large and small, and the people who run those businesses are the ones I enjoy working with. I am slightly obsessed with Pinterest. Not just because it is fun, but because it works amazingly well for traffic and lead generation.
Latest posts by Alisa Meredith (see all)