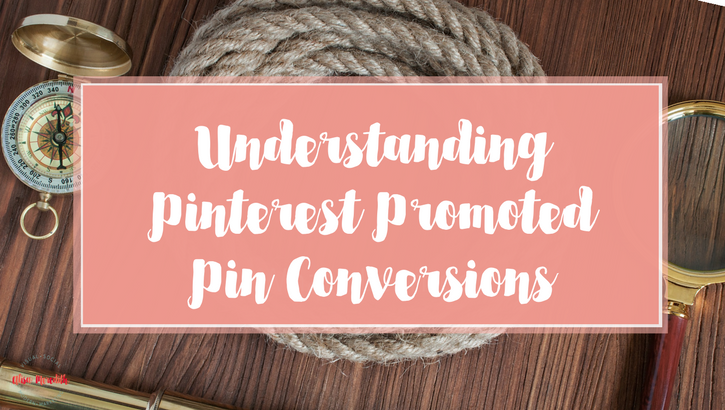 Pinterest offers conversion tracking that will allow you to set up audiences and track the results of your Promoted Pins. Handy. What's not so handy is that the numbers don't add up. How can a brand new campaign with zero clicks have two conversions (true story)? What IS a conversion? And how in the world are they measuring them?
I admit that for the longest time, I thought they were just glitchy. Now it appears they are just poorly documented. So, I'm happy to share what I learned with you!
Basics of Pinterest Conversion Tracking
Pinterest makes it easy to create one base code that you can then install in the <head> section of each page on your website. Just go to Ads > Conversion Tracking > Create Tag. You can then retarget your website visitors. It's also installed to help you determine the big-picture results of your ad campaigns, specifically the number of website visits resulting from your ads.
Fancy Pinterest Conversion Tracking
If you're an ecommerce seller, you probably will want to hire someone fluent in javascript to help you install the event code tracking you'll need to track things like:
Category Views
Video Views
Search
Add to Cart
Everyone else can make do, and probably will be happy with, Google Analytics Goal conversions with UTM codes.
Promoted Pin Conversions in Analytics

Behold the printscreen which tells me that the top pin got one click and one conversion. Believable. The second one says I got 117 conversions from 97 clicks (that's paid AND earned). Not likely.
So begins a month-long conversation with Pinterest support.
THE Answer to the Promoted Pin Conversion Riddle
This is what I learned from Abby at Pinterest:
Conversions are the result of earned and downstream activity on your Promoted pin. "Downstream" activity is activity on repinned versions of your promoted pin. That makes sense. I would want to attribute that activity with my Promoted Pin.
 Conversions can be attributed to either a click, an engagement, or a view. To illustrate how it works: Someone might see your Promoted Pin in their feed but they don't save it, close up, or click. Later if they navigate to your site through Google for example and land on the page tagged with your conversion event, this will count as a view conversion for your Promoted Pin.Now, to literally illustrate the example:

Conversions will always be attributed to the strongest action on your pin. So, if there's been a click, it will be under clicks. If the strongest action was an engagement, it'll be there, etc.
It will all make more sense to you if you export the data from the Ads > Conversion Tracking page.  Check out this data from one day this week:In my case, "Conversions" is the same as website views. Notice that the three columns on the right equal the one on the left. Conversions from page visits from clicks is self explanatory.  Page visits – views would be a case where the example scenario in item 2 above occurred. And "page visits" come from engagements (closeups or saves) on a pin. Looking at the pattern of other column headings in the spreadsheet, it looks like they just forgot to add "-engagements." Hey, it happens!
Thanks, Abby!!
Pinterest Conversion Data – Tracking Earlier-Touch Actions
The struggle of so much in social media and online advertising has been to figure out which actions may have contributed to a conversion rather than just knowing the last-touch attribution. That is, has someone seen your Facebook ad, gotten an email, and seen your Promoted Pin all in the last month? You'll never know if all you can tell is that they finally converted because of a Google search.
Now, is it fair for Pinterest (or a Pinterest marketer) to take partial credit for a conversion when the pin only appeared in someone's feed and we don't even know if they saw it? I'm not so sure. However, it is nice to have this incredible depth of information.
If only we could also see the actual direct conversions as well!
What About Attribution Windows on Conversions?
For how long will Pinterest attribute an action (or just a potential view) on Pinterest in the conversion data in the dashboard?
After several email messages with Bill from support, he provided this little gem:
"The default attribution window in the Ads Manager is 30 days for click conversions, 30 days for engagement conversions, 1 day for view conversions (from the day the promoted pin served)."
Perfect.
How to Track Direct Conversions from Pinterest Promoted Pins
If you are interested in tracking actual signups and sales from Promoted Pins,  I would strongly suggest you implement Google Analytics goal conversions and UTM codes in your marketing program. That blog post will walk you through the entire process. And then you'll be able to tell your clients (or yourself), "This promoted pin generated 100 email signups, 15 sales, 2 quote requests, and may have contributed to as many as 3,000 website visits." That, my pinning friends, is called justifying your ad spend. 🙂
Was this helpful or at least interesting? Please pin me!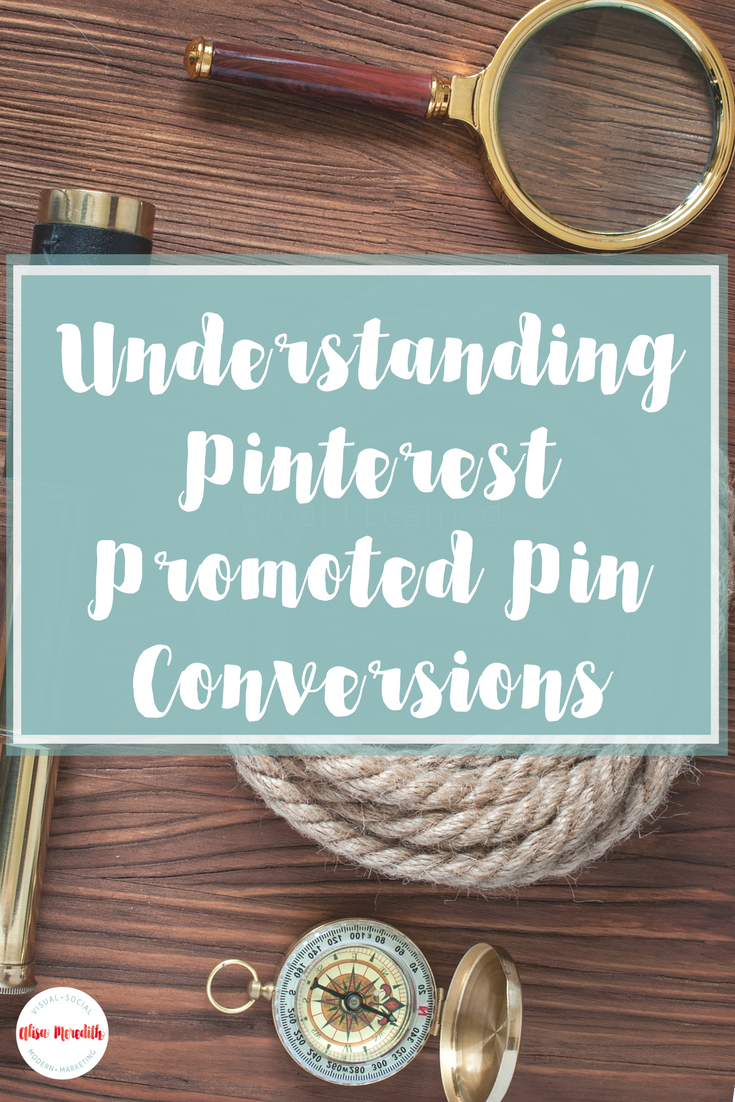 The following two tabs change content below.
I've been creating marketing strategies for years - for both B2C and B2B businesses, formerly as co-owner and chief strategist of a HubSpot partner agency, and since 2015 right here. I have a passion for businesses that make the world a better place in ways large and small, and the people who run those businesses are the ones I enjoy working with. I am slightly obsessed with Pinterest. Not just because it is fun, but because it works amazingly well for traffic and lead generation.
Latest posts by Alisa Meredith (see all)