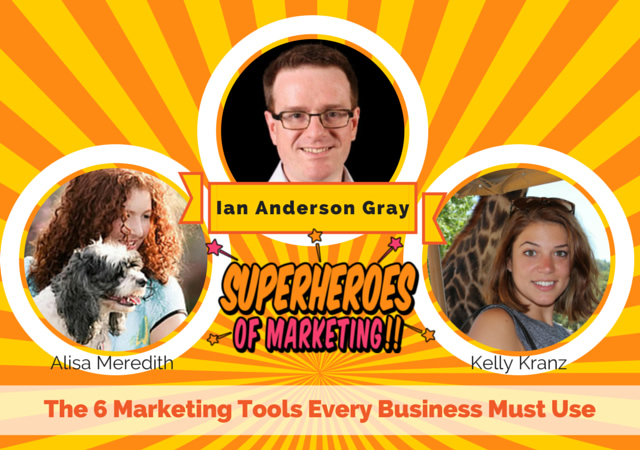 Ian Anderson Gray joined me and Kelly Kranz on the Superheroes of Marketing podcast to talk about the tools every business needs to use. While we use HubSpot for many clients, I'm using MailChimp, WordPress and other tools for this blog. So, it seemed a good time to pick Ian's brain about other options for smaller budgets!
I met Ian in San Diego at Social Media Marketing World and we really hit it off. He's a great guy with a curious mind and giant heart. We also love his accent. Though he wouldn't sing on-air for us (even after Kelly rapped), he is a professionally trained singer, and you can check out his SoundCloud account below.
Here's our edited podcast, but if you want to catch the unedited Periscope version, scroll down.

Here's a quick run-down of the tools we discussed:
1. Email
Email is extremely powerful for keeping in touch, even if it seems a little "old fashioned."
2. Analytics, Monitoring, and Reporting
If you're marketing in a forest and no one retweets you….
3. Social Media Publishing, Monitoring, and Interacting
Sometimes you want to engage in a platform directly (Facebook seems to favor this), but to keep things consistent with publishing, you can't beat these tools.
4. Content Curation Tools
Unless you are creating loads of your own content, you'll want to supplement your sharing with other people's content. These tools can make finding good sources easier.
5. Website Builders
You really have to have a website. Really. You can get a one-click installation from many hosting companies, so my suggestion is to get a managed WordPress hosting account and have it installed. Other easy options include:
Whatever you choose, make sure your data is being backed up. Unless your hosting company specifically promises to maintain backups, YOU are responsible for doing so.
6. Hacks to Make Things Work Better
Ian and I are both fans of IFTTT, where you can get recipes to automate an amazing array of tasks. From sending Instagram photos to Facebook pages (natively they will only go to a profile), to sending Pinterest images to Twitter, the possibilities are nearly endless. IFTTT is free. Also check out Zapier. It is perhaps even more powerful.
Did we leave out any of your favorites? Should Ian continue to try to say the American "Schedule"? These are pressing questions, and we want your answers.
About Our Guest, Ian:
Ian is the owner of Seriously Social, where he keeps us all informed about social media and blogging tools. He's also partner at Select Performers, a family-owned internet marketing company. He organizes techy events in his local town of Cheadle in the UK AND he is a professional singer (check out his SoundCloud account)! He is also the Chief Executive Research Dude for the Web Search Social podcast and a very nice guy with a cool accent.
Related Articles:
The following two tabs change content below.
I've been creating marketing strategies for years - for both B2C and B2B businesses, formerly as co-owner and chief strategist of a HubSpot partner agency, and since 2015 right here. I have a passion for businesses that make the world a better place in ways large and small, and the people who run those businesses are the ones I enjoy working with. I am slightly obsessed with Pinterest. Not just because it is fun, but because it works amazingly well for traffic and lead generation.
Latest posts by Alisa Meredith (see all)